When did Rihanna have her son? Who is Rihanna dating? Baby reveal at Super Bowl 2023
Just nine months after the Grammy winner welcomed her first baby, Rihanna revealed a surprise bump at the Super Bowl halftime show in an epic comeback performance.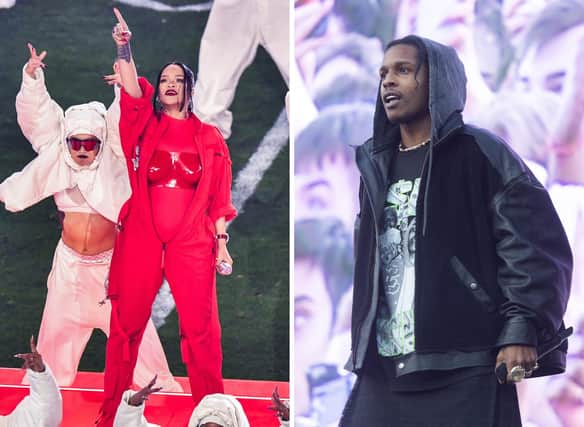 The Barbados-born star and her significant other A$AP Rocky welcomed their first child back in May 2022, a huge milestone for the pair who have been together for years. The hype didn't stop there, however, after Rihanna confirmed she is now pregnant with her second child during her highly anticipated comeback performance at the Super Bowl 57 on Sunday.
The nine-time Grammy Award winner took to the stage and rubbed her belly in front of millions of onlookers around the world at the State Farm Stadium in Arizona where the Kansas City Chiefs face off against the Philadelphia Eagles.
Now, after sending social media into a frenzy, fans are busy asking questions like who is Rihanna dating, when did she have her son, and what's next for the singer superstar? Here's everything we know.
When did Rihanna have her son?
Rihanna and her boyfriend A$AP Rocky welcomed their first child back on May 13, 2022. The couple has decided to keep details surrounding their child, including his name, private yet they have discussed what it's like to be parents in several interviews.
According to Vogue, Rocky 'gushed' about how it is to be a 'full dad' when talking to Apple Music 1's Zane Lowe. He said: "I can't even explain it, man. You come home to heaven every day. I'm so thankful. God is good, man."
Who is Rihanna dating?
Known as 'one of the biggest A-list couples' on the planet right now, Rihanna has just announced her second child with her boyfriend A$AP Rocky. Capital FM reports that 'the pair have been friends for years' and that Rocky unveiled their official status as a couple back in 2021.
Born as Rakim Athelstone Mayers, 33-year-old Rocky is a world-famous record producer and rapper who grew up in New York. His career kicked off in 2011 when he dropped his single 'Peso' which hit radios within weeks of its release.
He then unveiled his debut mixtape 'Live. Love. A$AP.' which saw him achieve a record deal with RCA Records, Polo Grounds Music and Sony Music Entertainment.
What did Rihanna sing at the Super Bowl?
Rihanna opened the halftime show with her hit song 'Bitch Better Have My Money' before getting the audience hyped with her famous dance hits 'Where Have You Been' and 'Only Girl (In The World)'. Other timeless tracks also featured like 'We Found Love' and 'Rude Boy'.
When does Rihanna's next album come out?
RiRi's last album 'ANTI' dropped back in 2016 and after the 6-year hiatus the singer released 'Lift Me Up' for Marvel's Black Panther 2 movie soundtrack as well as the follow-up track 'Born Again'. GQ Magazine confirms that while there is 'no confirmed date' for the album, Rihanna has been teasing its release over the years.
Unofficially, fans refer to the album on social media as #R9 as it will be Rihanna's ninth studio album. In an interview with the New York Times, the singer said: "So far it's just been R9, thanks to the Navy. I'm about to call it that probably, 'cause they have haunted me with this 'R9, R9, when is R9 coming out?' How will I accept another name after that's been burned into my skull?"
Comments
 0 comments
Want to join the conversation? Please or to comment on this article.