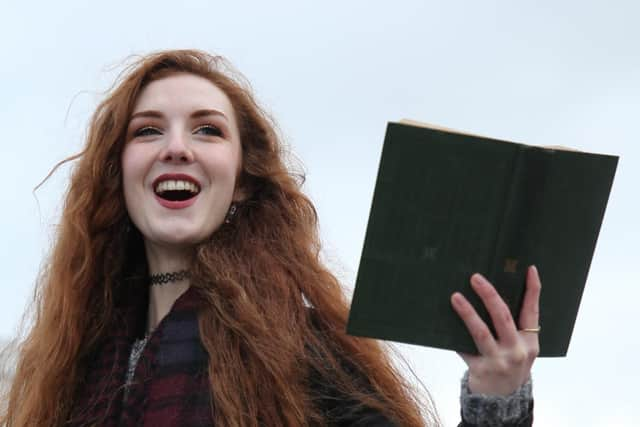 Fife student Len Pennie, one of the rising stars of Scotland's poetry scene thanks to her daily posts on Twitter, has described their treatment as "state-sanctioned murder of innocent folks" in a powerful new video.
It includes a pledge to "demand justice" for all those who were tortured and tried when the Witchcraft Act was law in Scotland between the 16th and 18th centuries, branding it "a punishment lacking a crime."
The 21-year-old was commissioned by campaigners fighting to secure a pardon, apology and new national memorial for all those accused, convicted and executed between 1563 and 1736.The film featuring her poem, In Memorial, was launched to coincide with the Scottish Parliament being formally asked to right a "terrible miscarriage of justice" suffered by almost 4000 Scots accused of witchcraft, the vast majority of whom were women.
The poem includes the lines: "Noo yer're deid but never gone, hen, there's them that still carry yer name
"There's them that mind ciminals bidin in courts, heids that should hing heavy wae shame
"Auld Nick didnae ken ye fae Eve, hen, ye had but yer ain eyes tae see
"The wrang wasnae yours, the guilt was misplaced, yer innocence plain as can be."
The petition lodged with the Scottish Parliament by the Witches of Scotland campaign, which is being led by QC Claire Mitchell and author Zoe Venditozzi, suggests that Scotland had five times as many witch trials as anywhere else in Europe.
Their petition states: "As with elsewhere in Europe, the vast majority of those accused, some 85 per cent were women. The stripping and pricking of women was common, as was sleep deprivation. Most confessed and that was used as the basis for their conviction. The method of execution was by way of strangulation and then burning at the stake.
Pennie's poem goes on: "Yer soul's noo at peace wae the earth, hen, sleep and be wan wae the sky
"We'll scrieve yer name in books they cannae burn, write a legacy never tae die
"But we willnae just beg ae yer pardon, hen, those days have lang ceased tae exist
"We noo demand justice fur aw those lit you, lang gone but eternally missed."
Pennie, who has amassed more than 70,000 followers on Twitter in the last few months, has had her work championed by actor Michael Sheen, author Neil Gaiman, playwright David Greig and comic Janey Godley in recent months.
She also starred alongside broadcaster Edith Bowman, writer and broadcaster Billy Kay and comic Janey Godley in the National Trust for Scotland's virtual Burns Supper last month.
Mitchell said: "Zoe Venditozzi and I wanted to mark the presentation of the petition to the Scottish Parliament to seek a pardon, apology and national monument.
"We thought that Len Pennie was the obviously choice as a brilliant Scots poet who uses the Scots language. We were delighted when she agreed to write a poyum for us.
"In Memoriam perfectly captures why it is necessary to remember the women and men killed as witches and to galvanise support for the petition, it is a beautiful tribute to those killed as witches."
A message from the Editor:
Thank you for reading this article. We're more reliant on your support than ever as the shift in consumer habits brought about by coronavirus impacts our advertisers.
If you haven't already, please consider supporting our trusted, fact-checked journalism by taking out a digital subscription.
Joy Yates
Editorial Director