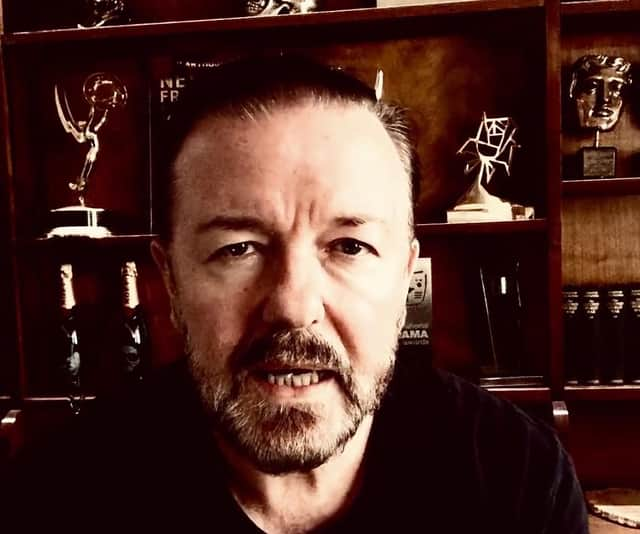 Ricky Gervais went on to enjoy huge success with TV shows like The Office, Extras and After Life after appearing at the Fringe.
The star of The Office, Extras and After Life agreed to help promote a fundraising campaign being run by Just the Tonic, which offered him his first ever paid gig as a stand-up.
They were forced to refund 140 performers who had signed up to perform at this year's Fringe, which was officially called off in April due to the growing impact of the coronavirus pandemic on live events.
The Fringe Society is helping promoters and venues to stage their own fundraising campaigns to ensure they are able to return in 2021.
Just the Tonic has launched a £17,500 fundraising campaign which it says will allow it to stage a "full season" of shows at next year's Fringe.
In his video message, Gervais said: "Hello, just a quick message to let you know that Just the Tonic, as part of the Edinburgh Fringe campaign, are trying to raise funds to keep going and they wanted me to tell you about it.
"They were the venue that gave me my first ever paid stand-up gig so this is me giving something back. Not money – just this s****y little video. I want you to to help."
Just the Tonic founder Darryl Martin said: "This year's Fringe has been cancelled but we have launched own campaign, under the Fringe umbrella and are relying on the people that have come through our grass roots venues to show us recognition.
"The UK's live comedy is exported all over the world. Ricky Gervais's Afterlife 2 has been the most watched show on Netflix during lockdown.
"It is a show, where the majority of the cast have come through the UK's comedy scene and probably never even been in the Royal Opera House or The Globe Theatre, or the majority of other cultural places that are already funded and will be even more funded in this emergency."