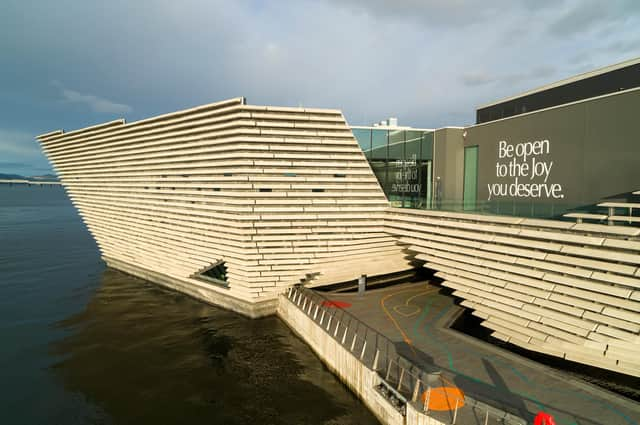 Kane's design – entitled Be open to the Joy you deserve - was created earlier this year as part of a poster art project imagining a "post-pandemic future."
It is intended to send "a message of hope" to the people of Dundee and visitors to the museum, which opened in September 2018 and reached the one million visitors landmark shortly before it was forced to close due to the coronavirus outbreak.
The new artwork, which has been captuted drone footage of the museum designed by Japanese architect Kengo Kuma, is part of a new exhibition exploring how designers have responded to the pandemic lockdown.
A spokeswoman for V&A Dundee said: "It will be seen by thousands of people driving into Dundee every day, sharing a message of joy and empowerment after the recent crisis."
Kane said: "In these unprecedented times, Be open to the Joy you deserve takes on an even deeper meaning as a talisman of hope and good karma, as we navigate 2020 and manifest a future with limitless opportunities for More Joy.
"We hope this mantra will be a positive affirmation to the people of Dundee, and serve as a reminder to be open to the feeling of joy even in these challenging times."
The Kane artwork has been unveiled ahead of the museum's long-awaited reopening this Thursday, when it will also unveil its first ever fashion exhibition, devoted to iconic British designer Mary Quant.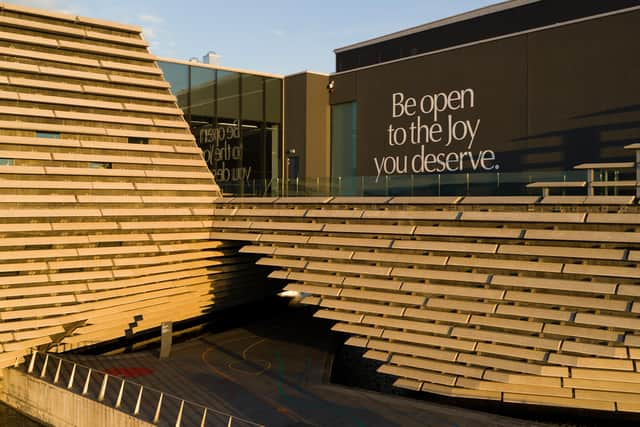 The Kane artwork is part of Now Accepting Contactless, an exhibition which will recall how designers have been able to use their skills during the pandemic, from creating medical illustrations that helped visualise the virus to "DIY hacks" that encourage essential physical distancing.
Some designs featured in the exhibition are in use throughout the museum – including door handles adapted so that they can be opened with an arm, rather than by hand.
All visitor bathrooms will feature specially-created posters behind each sink to encourage thorough handwashing, inspired by the website WashYourLyrics.com, which was created to generate hand-washing infographics based on popular song lyrics. The museum has created ten posters, each featuring a different song selected by V&A Dundee staff.
A soundscape will play throughout the museum, asking visitors to consider how the sounds they listen to shape the world around them.
Kirsty Hassard, V&A Dundee curator, said: "Christopher Kane's message of joy at V&A Dundee is for everyone as we adapt to life during a global pandemic.
"It forms part of our free exhibition, Now Accepting Contactless: Design in a Global Pandemic, demonstrating the incredible power of ingenuity as society responds to a global problem.
"Designers and communities have adapted to the unprecedented challenges of this year, creating innovative solutions to enhance our resilience in the world of medical care, adapting public spaces, highlighting social inequalities, and protecting the wellbeing of individuals during lockdown."