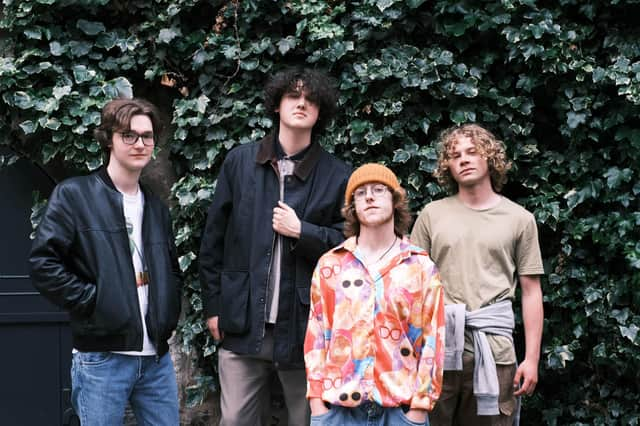 A very promising young indie rock quartet from Aberdeen, The Sun Day are Connor Ritchie (vocals and guitar), Luke Doyle (lead guitar), Aidan Forret (bass) and Craig Spink (drums).
We first encountered the band when they toured Scotland with youth music project Hit The Road in June last year, and we caught them again at Belladrum Tartan Heart Festival the following month.
Having released their debut EP Sometime Tomorrow last year, they've decided to take a year out "from being skint students" to concentrate on their music. This is particularly relevant since they recently signed with Aberdeen's excellent Fat Hippy Records – the label that helped develop the careers of UTR favourites Cold Years and The X-Certs, among others.
The Sun Day have since been championed by Jim Gellatly on Amazing Radio, and had their music included on numerous Spotify playlists. They play live at Aberdeen's Captain Tom's on Saturday, Cafe Drummonds on 11 March, HMV on 25 March and headline The Tunnels on 8 April. See https://linktr.ee/TheSunDayBand
Olaf Furniss and Derick Mackinnon run music industry seminar and social night Born To Be Wide, www.borntobewide.co.uk Find them on Twitter @olafwide and @newfoundsound