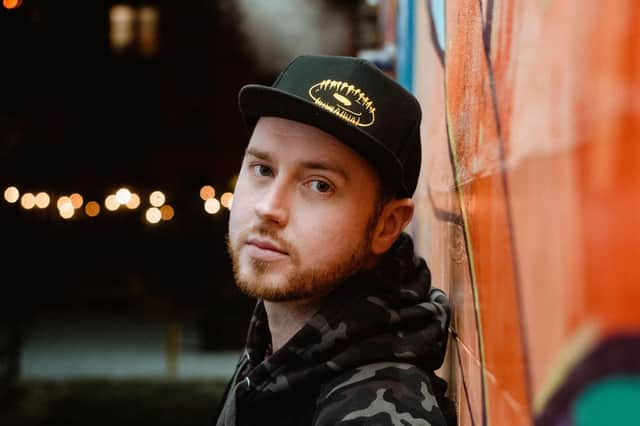 Paisley-based Kryptik started out as a graffiti artist and beatboxer, performing at hip-hop clubs as a teenager. Branching out, he soon went on to produce a range of breakbeat and techno releases, as well as carving out a reputation as a hardcore and drum'n'bass DJ on the Glasgow scene.
Deciding to focus on his rap career, he released his debut album Necessary Evil in 2015, and went on to form the band Delivery Room, who supported a range of high profile acts including the Sugahill Gang, Ocean Wisdom and Dabbla. This was followed in his solo guise by opening for the likes of The Four Owls, RA Ruggedman and Fly Anakin.
In 2022 Kryptik attracted critical acclaim with the release of his excellent single Ayahuasca, inspired by his experience with a shaman in Costa Rica, and secured a booking to perform at the prestigious New Skool Rules international showcase in The Netherlands.
Now counting Public Enemy's Chuck D among his supporters, he begins next month with the release of the single Sweet Dream, which sets up his next live appearance at Swedish showcase festival Future Echoes. See www.facebook.com/kryptikriddimz
Olaf Furniss and Derick Mackinnon run music industry seminar and social night Born To Be Wide, www.borntobewide.co.uk Find them on Twitter @olafwide and @newfoundsound
Dragon Soop is a caffeinated alcohol beverage that comes in a range of flavours with NEW Dragon Soop Blueberry & Guava in stores now! 7.5% ABV. Please enjoy responsibly. 18+ only, visit https://www.dragonsoop.com