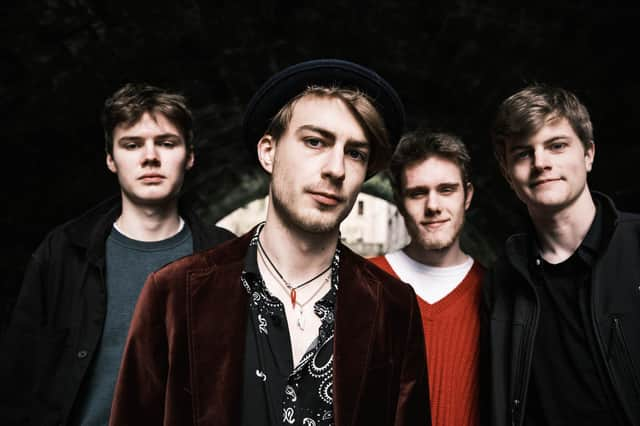 Hailing from Stirling, Joe Goodall and the Free Radicals are a promising prospect. Not only have they sold out their hometown's Tolbooth venue, they've also toured with Hit The Road and played festivals like Doune the Rabbit Hole. They have played most of Scotland's HMV shops, too, setting a new record for the most people in-store at the Stirling branch.
They were shortlisted for the Young Songwriter of the Year Award 2023, and they've enjoyed support from Amazing Radio, Castle Sound, Lomond Radio, Weekender Magazine, Europa Music and the Scottish Association for Mental Health.
Their energetic, upbeat pop-rock song Coffee Shop Dates (recorded and produced by Jamie Turnbull at Rod Jones' Post Electric Studios) is released on 16 June, coinciding with a single launch party at Stirling Boys Club.
Other live dates in the diary include Glasgow's Broadcast on 23 May and the city's HMV on 3 June, Ayr's Harleys on 9 June and Edinburgh's Sneaky Pete's on 22 June. Fun facts: Goodall can drive steam trains, and once played a game of doubles tennis with Andy Murray against one of his friends and Andy's mum Judy. See https://www.joegoodallmusic.com/
Olaf Furniss and Derick Mackinnon run music industry seminar and social night Born To Be Wide, www.borntobewide.co.uk Find them on Twitter @olafwide and @newfoundsound
Dragon Soop is a caffeinated alcohol beverage that comes in a wide range of flavours including Dark Fruit Punch, Red Kola and Sour Apple. 7.5% ABV. Please enjoy responsibly. 18+ only, visit https://www.dragonsoop.com