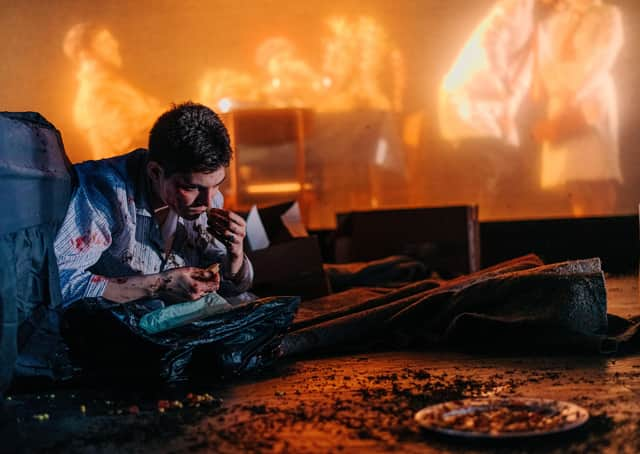 Sam Stopford and Nico Guerzoni play normal and transformed Gregor brilliantly – the whole cast performs perfectly
The Metamorphosis, Tron Theatre, Glasgow *****
At first, his family – with whom he shares a flat – are tender and concerned. Soon, though, the strain of living with a being so "different" begins to tell on them; and the story's true metamorphosis begins, as they start to harden their hearts, rationalise their cruelty, and eventually find justifications – all too familiar, in an age when some newspapers hire journalists to call refugees "cockroaches" – for their final act of extermination.
In director Matthew Lenton's inspired new version – co-written with associate director Joanna Bowman and the 
seven-strong performing company – all of this is realised, over 90 minutes, with a degree of meticulous artistry and controlled passion that sometimes almost takes the breath away, not least in the poignant relationship between the original Gregor, brilliantly played by Sam Stopford, and the equally compelling Nico Guerzoni, who plays the tragic figure of transformed Gregor. Designer Kenneth MacLeod creates a dark stage, reflected in a mirror-like surface above, which features only Gregor's bed, and his simple desk.
Through its gauzy rear walls, though – and in an echo of previous great Vanishing Point shows – we can see the wordless dumb-show of the family's attempts to continue a normal life, and deal with the economic distress caused by Gregor's sudden inability to work.
Every actor in Lenton's ensemble plays his or her role to perfection, from Elicia Daly's loving but 
terrified mother, to a superbly complex Alana Jackson as Gregor's sister Greta, the one who loves him best, and who most completely breaks his heart with her final rejection.
Superb and haunting lighting and sound by Simon Wilkinson and Mark Melville complete the impact of this consummate piece of theatrical poetry.
And despite the current crisis, we can only hope that The Metamorphosis will eventually, in good time, find the Scottish and international audience it richly deserves, for its passionate vision of what happens when 
compassion fails, and we choose to dwell on outer differences, rather than on the shared humanity within.
Tron Theatre, Glasgow until 21 March; Traverse Theatre, Edinburgh 1-4 April; Dundee Rep, 9-11 April and Eden Court Theatre, Inverness, 15-17 April.