The Stamping Ground: The new Scottish musical set to bring Runrig's music and songs to new audiences
When Scottish rockers Runrig took their final bows in two farewell concerts in Stirling four years ago there was no doubt it was the end of an era for the group and their devoted followers.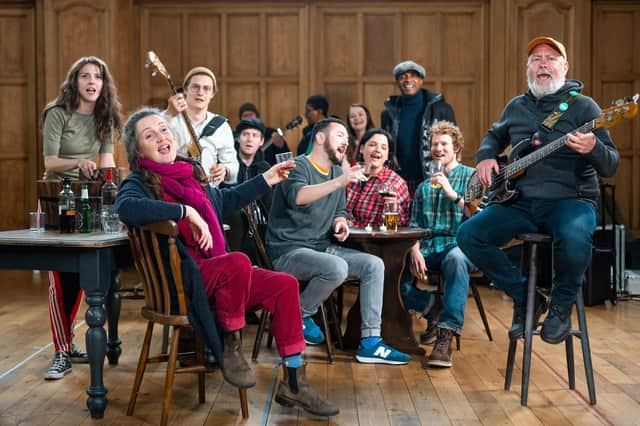 The Stamping Ground musical will be staged at Eden Court in Inverness from 14-30 July. Picture: Tommy Ga-Ken Wan
But just a few months later, a new chapter of the band, who took the Gaelic language from the village halls of the Highlands and islands to concert venues all over the world, was about to unfold.
Theatre producers Margaret-Anne O'Donnell and Gillian Garrity had set off on a "road trip" around Scotland to pitch their new company Raw Material's ambitions of creating bold and accessible new Scottish work that would cross borders – and returned with a tantalising prospect to pursue.
After more than three years in development, a major new stage musical is about to get its world premiere in the Highlands, with the music and songs of Runrig taking centre stage.
The Stamping Ground, which is already expected to tour Scotland next year after a run at Eden Court in Inverness launchning on Thursday, has received the seal of approval from Calum MacDonald and Rory MacDonald, Runrig's songwriters throughout a career spanning 45 years.
The lyrics, themes and characters in their songs have inspired a new story, by Moray playwright Morna Young, set in a modern-day rural village, which will explore climate change, the impact of tourism, family tensions and increasing threats to the way of life in a tight-knit Highland community.
It focuses on "together-forever couple" Euan and Annie, who return home from London with their daughter in a bid to leave troubles behind them, but find things are not what they were hoping for.
Young's story has evolved from an idea for a stage show inspired by Runrig's music, which Eden Court had been sitting on for years.
The Stamping Ground musical will be staged at Eden Court in Inverness from 14-30 July. Picture: Tommy Ga-Ken Wan
When O'Donnell and Garrity met with then chief executive, James Mackenzie-Blackman, early in 2019 he suggested Brora songwriter and poet Alan B McLeod's original concept just before the left.
O'Donnell said: "We had been a bit fired up about the stories that Scotland tells, the love that people have for Scottish stories and our desire to make work that really speaks to Scottish people, but also speaks to the wider world.
"Runrig had just retired from playing live. We felt it was such a ripe time to look at their legacy. When we did a workshop a couple of months later we felt that the poetry of their songs was pretty phenomenal. We could see the pictures they could paint on stage."
Musical director John Kielty and director Luke Kernaghan have been involved since that workshop, along with three of the current cast, Steven Miller, Brian James O'Sullivan and Annie Grace.
The Stamping Ground musical will be staged at Eden Court in Inverness from 14-30 July. Picture: Tommy Ga-Ken Wan
Grace, who previously performed with the Celtic band The Iron Horse, had no hesitation about getting involved.
Grace, who plays Mary, said: "I take my folk tradition very seriously and if there's ever an opportunity to go and spread the word about Scottish culture, Gaelic culture or our music I'm in there.
"I was in familiar territory. Runrig were actually the first ever band I ever went to see live, in the Milton Hotel, in Fort William.
"They were an absolute phenomenon in the west coast of Scotland. They were taking the Gaelic language, mixing it with contemporary sounds and presenting young folk with a fusion that was so novel. The atmosphere was extraordinary.
Steven Miller and Neshla Caplan play Euan and Annie in The Stamping Ground. Picture: Tommy Ga-Ken Wan
"They were on the second rung of the ladder at that point and were just starting to take off. A lot of people weren't really taking them very seriously. How wrong they were."
Crucial to getting the musical off the ground and into the early stages of development was securing the backing of Calum MacDonald and Rory MacDonald for the idea and permission to use their material.
O'Donnell said: "We had gone straight to the band's management company really early on to make sure we had the rights to explore it. All the way through Rory and Calum have been saying 'yeah, go for it,' which has been brilliant.
"I was so thankful that they gave us their blessing to do this after 45 years. They were actualy overjoyed that we could see their songs being reimagined in a different way. But they were very respectful and have really stepped back from it."
The Stamping Ground was a dream to be asked to work on for Young, a lifelong fan. In a rented cottage, she set about the task of shaping a storyline out of more than 200 songs, papering the walls with lyrics.
She said: "Runrig have something to say about the world and I wanted to stay true to the ideas of people, place and identity, whilst asking questions about the future of the Highlands. There's a creative curiosity within Runrig's work and I wanted to approach the story in this same spirit."
The Stamping Ground musical will be staged at Eden Court in Inverness from 14-30 July. Picture: Tommy Ga-Ken Wan
Gordon, who plays Summer, said: "Morna has taken absolutely every element of the show directly from the songs.
"There are lots of characters who have long-standing relationships with the land, their community and each other. Some have been away for a while and are trying to find a way to reconnect. A lot of it is about having a sense of belonging."
Miller, who plays Euan, said: "Morna has given it incredible life since she came in, she has done a cracking job.
"There are a load of really carefully-crafted yet heartfelt messages and themes in there.
"Combing through Runrig's songs in the way we have lyrics-wise has been such a pleasure."
Grace said: "We were blown away by how well their songs translate into musical theatre. We all got a bit of a surprise. Their lyrics are so evocative and they write from a beautiful, genuine love of land and culture and community. Our show mixes all those ingredients.
"There is a huge element of responsibility in what we're doing. We want to do a really good job. We're not doing cover versions of Runrig songs. We're presenting them in a dramatic fashion. Every song has something attached to it and will take you on a journey."
Worker For The Wind, Going Home, Skye and In Search Of Angels are among the songs expected to feature in the show, which the cast have been rehearsing for several weeks ahead of a premiere eagerly-awaited in the Highlands.
Susannah Armitage, creative producer at Eden Court, said: "It's really exciting to feel the buzz around the shows, especially at a time when we're still coming out of Covid.
"Part of that is obviously down to Runrig, but I think it's also down to the fact that the show is being made here.
""We've been trying to put the word out as far and wide as possible and looking at who has booked tickets. We've actually got someone coming from Australia to see it.
"It feels like The Stamping Ground has already been embraced by audiences. I can't wait till they're sat in the auditorium to see what they make of it."
Grace said: "At the moment, the atmosphere in the rehearsal room is bouyant optimism. There have also been moments in rehearsal where people have been moved to tears by the beauty of the scene or the song. We're hoping that is going to transfer to the audience."
Miller said: "John Kielty, who has rearranged and reworked the songs, has done such a beautiful job. Runrig's lyrics have been really woven into the show. It's not a story with a few songs sticking out of it.
"For anyone who is not a Runrig aficionado it's a cracking piece of theatre and there's so much more to it than your average musical."
Gordon added: "It's felt like a huge undertaking. None of us are in denial about how much work we're having to put into it, but in a brilliant and challenging way.
"It's all-singing, all-dancing with heart-on-your-sleeve characters. It's really demanding, but it's so much fun."
Giving their seal of approval to the production, Calum and Rory, said: "It will be fascinating to see how The Stamping Ground team interpret the songs within the context of musical theatre.
"It's an area of the arts completely alien to us, so it is both intriguing and exciting to be creatively detached from the process.
"A huge amount of work has gone into the project and we wish it every success."
The Stamping Ground is at Eden Court in Inverness from 14-30 July.
The Stamping Ground director Luke Kernagan and writer Morna Young.
Annie Grace plays Mary in The Stamping Ground. Picture: Tommy Ga-Ken Wan
Christina Gordon plays Summer in The Stamping Ground. Picture: Tommy Ga-Ken Wan
Want to join the conversation? Please or to comment on this article.