The Scotsman Sessions #8: Katherine Bryan
Welcome to The Scotsman Sessions. With the performing arts world shutting down for the foreseeable future, we are commissioning a series of short video performances from artists all around the country and releasing them on scotsman.com, with introductions from our critics. Here, Katherine Bryan, principal flute with the RSNO, gives us a soaring rendition of Claude Debussy's flute solo, Syrinx, from her home in Balfron in Stirlingshire.
For the inhabitants of Balfron in Stirlingshire, the distant enchantment of the flute is probably as natural a soundtrack to their daily lives as the winds whistling across the nearby Camspie Fells. The source is local resident Katherine Bryan, principal flautist of the Royal Scottish National Orchestra.
She's often inspired by the glorious scenery around the rural home she shares with her cellist husband Kennedy Leitch and their 20-month-old son Torben. "I love to go upstairs, throw open the windows and play," she says.
It's a far cry from Manhattan where Bryan lived before joining the RSNO at the age of only 23. She'd been studying at the world-famous Julliard School. "I've asked myself a lot in recent days what I'd be feeling if I was still there."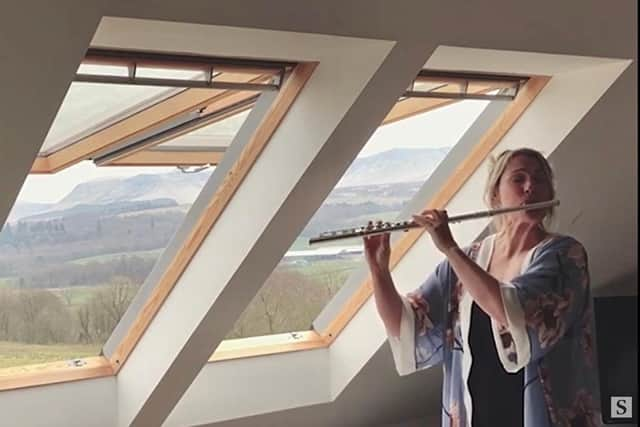 If anything sums up her current state of mind, and the enforced reflective family time she's experiencing, it's the enchanting flute solo, Syrinx, by Claude Debussy. "The French really knew how to write for the flute," Bryan says. "I often think it's something to do with the French language itself, its infinite nuances."
Written originally as incidental music to the 1913 staging of Gabriel Mourney's dramatic poem "Psyché" - there's ongoing uncertainty over where exactly this sensuous flute solo, originally titled "La Flûte de Pan", appeared in the action - it's become an iconic showpiece in its own right. Mellifluous and seductive, the mood is as instantly spellbinding as the famous opening flute solo to Debussy's earlier orchestral masterpiece, "Prélude à l'après-midi d'un Faune."
Bryan, whose expressive performance style is as visibly communicative to RSNO audiences as to those following her prominent solo and recording career, relishes the theatrical nature of her work. "I love that direct communication with audiences, telling them a story," she says. Even if it's just the neighbours.
Comments
 0 comments
Want to join the conversation? Please or to comment on this article.