The Scotsman Sessions #46: Daniel Keating-Roberts
Welcome to The Scotsman Sessions. With the performing arts world shutting down for the foreseeable future, we are commissioning a series of short video performances from artists all around the country and releasing them on scotsman.com, with introductions from our critics. Here, countertenor and Scottish Opera regular Daniel Keating-Roberts performs the traditional ballad, Awake, awake, you drowsy sleeper.
"Scottish Opera is my favourite UK company," declares Daniel Keating-Roberts, the Preston-born countertenor who has starred regularly in various guises there since his student days. "They gave me my first professional engagement, in Judith Weir's "A Night at the Chinese Opera. Since then I've appeared with the company's fantastic Connect youth initiative, and sung mainstream roles in Orfeo ed Euridice and the premiere three years ago of Lliam Paterson's The Eighth Door."
He should have been with Scottish Opera again through March and April as the Little Fox in the company's revival of Paterson's Fox Tot, the sell-out opera for babies that pulled in rave reviews at last year's Edinburgh Fringe, but like everything else it fell foul of the Covid curse.
Instead, Keating-Roberts is in Hamburg where he recently moved to be with his girlfriend. "I'd been working in Stuttgart, Brexit happened, so I thought, why the hell not?" And it's there, in a local church that offered him solitary practice space during lockdown, that Keating-Roberts recorded this breathtakingly simple version of the sultry English ballad "Awake, awake, you drowsy sleeper".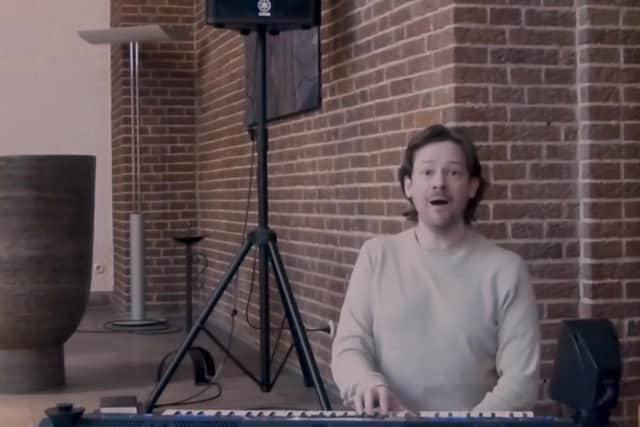 He first came across it in a version by British singer-songwriter Maz O'Connor, where the melody is supported by simple, slowly-revolving harmonies, and which he recreates here with sustained clustered chords on keyboard. But it's the countertenor timbre - its ephemeral otherworldliness - that casts the magic spell.
Keating-Roberts was reared in the English cathedral choir tradition, the spawning ground of this unique falsetto hybrid, initially as a boy chorister at Liverpool Cathedral. After completing a music degree at Sheffield, and a brief spell in a "real job" organising corporate events, he turned his full attention to singing at London's Guildhall School of Music.
"The moment I started there, Scottish Opera were on the phone," he recalls. "I've a lot to thank them for."