The Scotsman Sessions #41: Jane Atkins
Welcome to The Scotsman Sessions. With the performing arts world shutting down for the foreseeable future, we are commissioning a series of short video performances from artists all around the country and releasing them on scotsman.com, with introductions from our critics. Here, from her home in Edinburgh, Scottish Ensemble violist Jane Atkins performs the slow movement from Paul Hindemith's Solo Sonata, Op 25 No 1.
"Desolation, isolation, anger and joy." For Scottish Ensemble violist Jane Atkins, the natural release for the emotional extremes we are all experiencing just now is through music. So here she is, in her Edinburgh home, performing the central slow movement from Paul Hindemith's Solo Sonata, Op 25 No 1, which she says perfectly captures the mood of the moment.
Why Hindemith? "Firstly, he was an amazing viola player himself - so good that he took on the 1929 premiere of the Walton Viola Concerto after Lionel Tertis famously [later regretfully] turned it down - and knew exactly what the viola was capable of," Atkins explains. "But equally it's something I really wanted to play and dedicate to my mother Erica, who died just before this pandemic took hold after a ten-year battle with Alzheimers. Circumstances have made getting over that so much harder."
The entire sonata is an expression of life's rich tapestry, from the wildness of the fourth movement, which Hindemith asks to be played at a "raging tempo" with "beauty of tone of secondary importance," to the haunting melancholy of this third movement, a dreamy soliloquy whose pensive rhetoric and silken nuances sit perfectly with the viola's wistful versatility.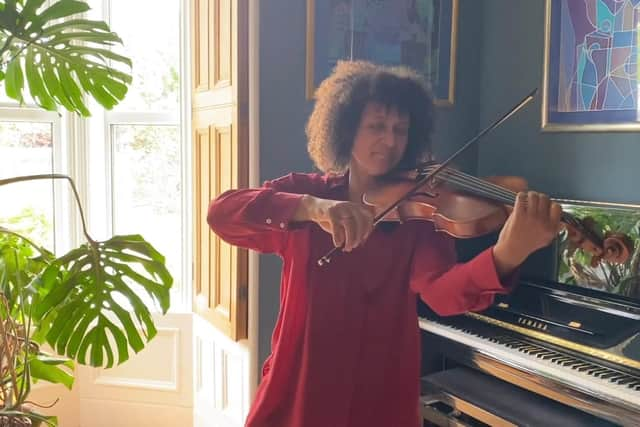 Atkins started her music career early, demanding a violin for her fourth birthday. By six she had enrolled at the Yehudi Menuhin School. "At 15, I put my violin under my bed, demanding to play the viola instead," she recalls. "Like Hindemith, who didn't always toe the line, I tend to be a bit of a rebel."
Atkins moved to Scotland in 2008 as principal viola with the Scottish Chamber Orchestra, and she is now a regular with the Scottish Ensemble. "We're a small group and perform in unconventional venues, so maybe we'll get back to playing sooner than others," she says. "But just in case, I've been studying horticulture."