C Duncan is no stranger to creating lush, layered, sophisticated chamber pop with limited means in humble surroundings. His first two albums, Architect and The Midnight Sun, were recorded solo, often through the night, in the tiny bedroom of a flat in Glasgow's West End, with Duncan over-dubbing his pure, precise vocals to create his signature rapturous harmonies.
So it's a pleasure but arguably no great surprise that this Royal Conservatoire of Scotland graduate, now established as one of the most unique voices in Scottish pop, would apply the same philosophy to his Scotsman Sessions performance of Stuck Here With You from his 2019 album Health which, like its predecessors, was nominated for the Scottish Album of the Year Award.
"Although it's a live performance, it wouldn't be very C Duncan unless it had some vocal harmonies," he says, "so I decided to overdub some live piano and backing vocals over the top. It's amazing what you can do video-wise with a few old abandoned iPhones and a bit of panning!"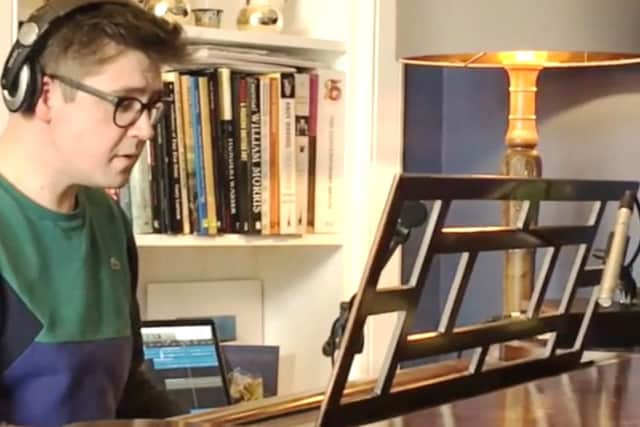 Duncan now lives in Helensburgh where he has been spending his self-isolation gardening, writing music and painting – you can see some examples of his distinctive, draughtsman-like work on the walls of his living room, as well as on his album covers.
He admits that "lockdown has been very up and down for me, as it will be for most. I decided to perform Stuck Here With You not only because of the name - which might ring true for quite a few people right now - but because it's about being in a situation that you want to get out of. It's not about being stuck with a specific person, but more about being trapped in your surroundings. It was a toss-up between two songs, but the other choice, Holiday Home, seemed a bit too tongue-in-cheek."