The Scotsman Sessions #387: Brenda
Welcome to the Scotsman Sessions, a series of short video performances from artists all around the country introduced by our critics. Here, Glasgow-based indie trio Brenda perform the track Sure As from their self-titled debut album
Glasgow-based DIY indie trio Brenda comprise drummer Apsi Witana, self-taught guitarist Litty Hughes and keyboards – one for each hand – player Flore de Hoog, though in their estimation Brenda is also "every woman you've ever seen, met, smelled, heard, feared."
This is a considerably more sinister prospect than the band themselves, who formed just the other side of lockdown as a way of connecting socially with other women. Witana and De Hoog had just escaped the creative yoke of the short-lived but hugely entertaining Wet Look, while Hughes had given up on looking for any band that would have her. Together, they felt their own way and set their own terms, arriving by accident as much as design at a rather impressive self-titled debut album released earlier this year on the prolific Last Night From Glasgow label.
"The album is peppered with rebellious themes: war, politics, social justice, angst, post-apocalyptic screwdrivers, sickle and hammer," they say. Again, it's more fun than you might imagine, powered by punky playing, mock pomp synthesizers and their haunting harmonising. Although formed to kick back at detractors, playfulness is key to the Brenda aesthetic – they radiate the angular, imaginative freedom of their punk forebears The Slits and The Raincoats, making a virtue of the lack of bass or rhythm guitar in their line-up.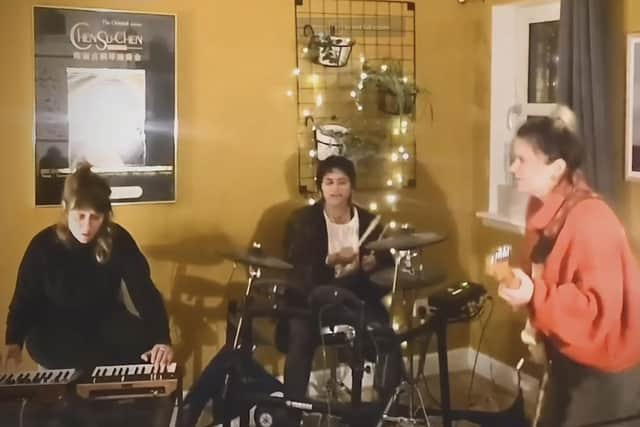 They also like to respond and refer to themselves in the third person – though there is, as if by osmosis, a fourth person in this band marriage: the original Brenda, "a surly, DIY shop assistant in Glasgow" who may or may not be aware of the fear, awe and inspiration she has wrought on her namesakes.
"She's an employee but all the bosses are scared of her. She swears and shouts at the customers. Hey, Brenda, how's your day? 'Shit'. No social conformity. Everything about her is hilarious and unapologetically Brenda. We can have fun with her as our figurehead. Separate the art from the artist."
In contrast to original Brenda, Brenda the band are utter joy, generating smiles wherever they hang their lurid pink backdrop banner. They provide a glimpse into Brendaworld with their Scotsman Session rendition of album track Sure As.
"Brenda gigs tend to be upbeat and energetic," they say, "so Sure As never quite makes the set, due to its more serious and melancholic vibe. However, it has grabbed the attention of many of their fans as the stand-out track of the album. So let's give it the coverage it deserves!"
The performance was filmed in Witana's living room "in their true DIY style. No matter how big the show, the band will never practice in a studio – they enjoy the comfort of home and the singalong of Apsi's parrot, Jobby. Brenda thought it would be nice to invite everyone in to see one of their practices, which includes the parrot behind the camera."
Brenda the album is out now on Last Night From Glasgow. Brenda the band play La Chunky Studio, Glasgow on 8 December