The Scotsman Sessions #385: Alannah Moar
Welcome to the Scotsman Sessions, a series of short video performances from artists all around the country introduced by our critics. Here, Glasgow-based singer-songwriter Alannah Moar performs her new single, Reciprocate
Alannah Moar started writing songs at the age of 14. "I was really creative as a child," she says, "I wanted to paint, act, write and perform, but didn't really hone in on anything specific until my teens."
Moar cites her discovery of Ed Sheeran's + album as a Damascene moment – it triggered the songwriting bug, but these days her music has more in common with the dynamic ethereal pop of 1980s Fleetwood Mac. Multi-tracked harmonies abound in Moar's meticulously arranged and self-produced studio recordings. She has a very particular sound in her head.
"I enjoy working with other people," she says, "but having the final say on what stays and what goes, and for how long and where, is something I couldn't give up to another person. The songs are my babies and I want to be the one to help them grow. It's a challenge for sure, I'm still learning, but when you get everything to fit into place and sound how you want, there isn't a better feeling. It's a really cool creative puzzle that I love trying to solve."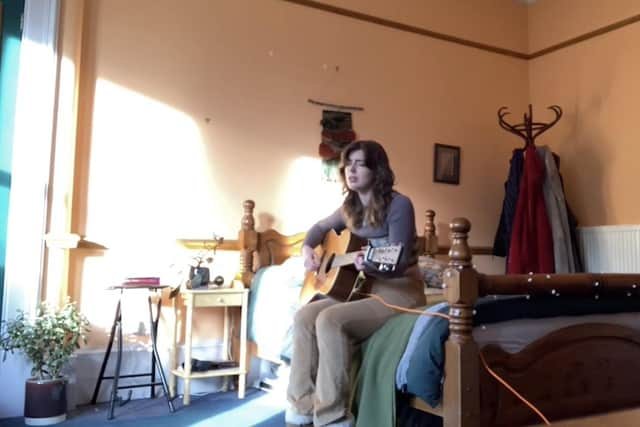 Currently based in Glasgow, Moar was raised in Aberdeenshire. Her family hails from Orkney, where she spent many summers as a child – a fecund source of inspiration.
"I have so many memories of beach walks, very cold paddles, tree climbs, barbecues on days that were definitely too cold, and admiring horses at the Dounby Show. It's always felt like home there and I feel I need to go back quite frequently to touch base or I don't feel quite right. There's not another place quite like it."
The innocence of Orkney and Aberdeenshire childhood summers via melancholy young adult experiences and a mythical Californian dream typified by later period Mac and Don Henley's The Boys of Summer? That's presumably the mood Moar is going for. An ambitious remit, but she captures it.
"I like a song with an interesting narrative," she says. "Sometimes I pick that up from what I'm thinking and feeling in my own life, sometimes I steal from my friends' experiences and a few times I get inspired by the narratives in media. I like the morally and emotionally grey stuff because it's always there."
Hence why the song she's chosen to perform for The Scotsman Sessions is her latest single, Reciprocate.
"You always have a little doubt when you love somebody, but how does it manifest? You always wonder if you did the right or wrong thing when you hurt somebody, but why do we feel that way? Really my songwriting process is 'Delete nothing because it might come in useful one day'. I'm an ideas hoarder."
As for the future, Moar plans to release more material in 2024 while hitting the festival circuit.
"I'm slowly getting my momentum back after taking a hiatus over the pandemic, so I would love to be prancing about in fields all summer long singing my little heart out!"