The Scotsman Sessions #384: John Douglas
Welcome to the Scotsman Sessions, a series of short video performances from artists all around the country introduced by our critics. Here, Irvine-bred, Glasgow-based guitarist John Douglas of the Trashcan Sinatras performs Lost – the opening track from his self-titled debut album.
The creative cliché about debut albums is that songwriters have a whole lifetime to draw on for their first collection – if that is so, then Kate Bush and Paul Weller packed a lot of grown-up experience into their teenage years in order to produce The Kick Inside and In The City.
But what of the other end of the spectrum – artists taking their time before going solo? Punk filmmaker and sometime Big Audio Dynamite member Don Letts has just released his debut solo album, and electro pop veteran Vince Clarke is finally going solo in November.
Closer to home, Irvine-bred, Glasgow-based guitarist John Douglas has been a member of gentle Scotpop favourites The Trashcan Sinatras for the past 37 years, with songs he has co-written sung beseechingly by Frank Read. He has also written for and plays live with his partner, Eddi Reader, but is only now emerging with his own self-titled debut collection – a lifetime in the writing but a short time in the recording with veteran producer/engineer Mark Freegard, who has worked with Del Amitri, The Clash, The Breeders and Manic Street Preachers.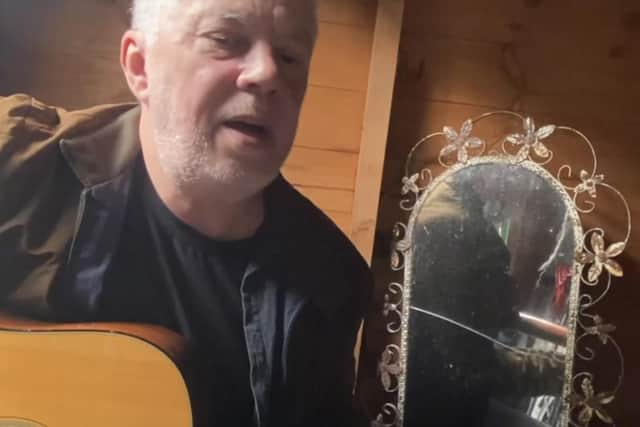 "I've often been encouraged by friends over the years to make a solo album, but the timing or inclination didn't flow," says Douglas. "Then last year out of nowhere everything suddenly felt right and the process was quick and natural. Mark just set the mics up and I played my songs. No other musicians or overdubs, me and my guitar. That way, I became the songs and they became me. The finished record, though varied in song styles, has a mood to it. It's warm, thoughtful and quiet, as I generally aspire to be."
The album features love songs, break-up songs and rejection songs written across the years. The Sleeping Policeman first appeared on Trashcan Sinatras' 1996 album A Happy Pocket, while a brand new song, Always, was written just in time to make it on to the album.
Douglas's thoughtful side comes out in odes to Syd Barrett, to sunny schooldays and to getting away from it all. He turns in his version of Trashcan Sinatra's wistful Weightlifting and a cover of We Let the Stars Go by Prefab Sprout, with whom Trashcan Sinatras toured in 1990, around the time of their debut album, Cake.
But the song he has chosen for the Scotsman Sessions, filmed in his garden in Glasgow, is the opening track Lost, of which he says, "it's hard to be precise about this lyric. It all came to me in one go. It could be about getting lost in the past and letting it take over. I have felt disorientated when I've found myself dwelling on the past too much. RD Laing once said 'why let yesterday affect today?' I know life can be more complex than that phrase allows, but it's not a bad thought to mull over."
John Douglas is out now on Reveal Records. Douglas supports Withered Hand on tour at Tolbooth, Stirling, 25 October, MacArts, Galashiels, 26 October, St Luke's, Glasgow, 27 October, Lemon Tree, Aberdeen, 28 October