The Scotsman Sessions #383: kitti
Welcome to the Scotsman Sessions, a series of short video performances from artists all around the country introduced by our critics. Here, Glasgow-based soul-jazz-funk singer-songwriter kitti performs her new single, Must Be Somethin'
Award-winning soul-jazz-funk singer-songwriter kitti's choice for Scotsman Sessions is a solo rendition of Must Be Somethin', the recently released single from her planned debut album, Somethin' in the Water, due for release next year. She gives bluesy, world-weary voice to lyrics which, she explains, "kind of came out of a place of darkness – just trying to think how to escape that dark cloud of depression that comes over me sometimes".
In fact, Glasgow-based kitti – aka Paisley-born Katie Doyle – has had much to celebrate over the past few years, having twice scooped the Best Vocalist category in the Scottish Jazz Awards, in 2022 and 2020 – the latter year also seeing her win Best Female Breakthrough at the Scottish Music Awards.
While her video performance of Must Be Somethin' is a wryly intimate delivery at her keyboard, the online single is a powerfully funky business with full band and horns arranged by busy saxophonist about the Glasgow scene (and fellow Paisley Buddie) Harry Weir.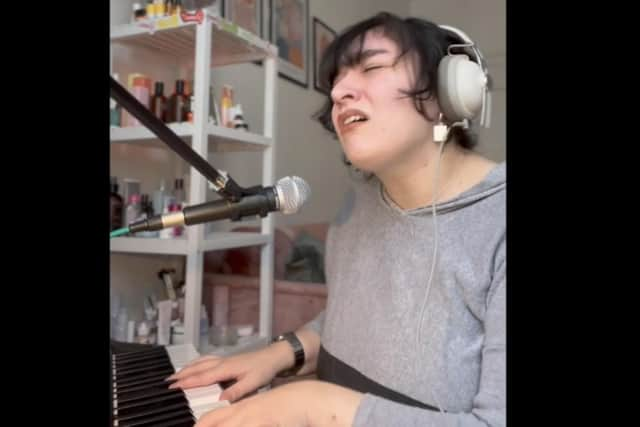 Kitti's soul-baring performances have seen her develop from modest venues and clubs around Glasgow to playing support to Rod Stewart's Edinburgh Castle shows earlier this year, as well as Van Morrison and Mavis Staples last year. Last month she collaborated with swing violinist, singer and arranger Seonaid Aitken to present kitti's Great Caledonian Songbook at the Lagavulin Islay Jazz Festival. "That was a lovely gig," she recalls fondly, set in the spectacular sea-facing setting of the island's Gaelic Centre, and one she hopes to repeat elsewhere with Aitken.
Now 27 but performing since her teens, she cites influences ranging from the classic jazz divas such as Ella Fitzgerald to more contemporary names such as Rufus, Chaka Khan, Aretha Franklin and Betty Davis. She credits her Nonna – her Italian grandmother – for first igniting her interest in jazz at an early age. "When I was young she would always have [records by] Louis Prima, Frank Sinatra and all the old swing artists. And I think the first time I ever went to a jazz festival it was the Edinburgh Jazz and Blues Festival with my Nonna and Papa and I was just completely infatuated with it all."
In her early days as a performer, she often played the now sadly defunct Blue Arrow Club in Sauchiehall Street, where she met other musicians from Glasgow's simmering young jazz scene and started building up her network. Having fronted the Katie Doyle Quintet for three years before "Katie" morphed into Kitti then discarded the capital, kitti regards herself as poised at a crucial point in her singing career: "I have put every ounce of my heart and soul into recording this debut album."
Studio recorded and currently in the final stages of production, the album is the focus of an all-important Crowdfunder campaign, with hopes for release in June next year. She plans to include a limited vinyl run as well as 12 short videos to accompany the online tracks, "to visualise all these lyrics that have been floating about in my head".