The Scotsman Sessions #382: Katie Gregson-MacLeod
Welcome to the Scotsman Sessions, a series of short video performances from artists all around the country introduced by our critics. Here, ahead of the release of her second EP Big Red later this month, Inverness singer-songwriter Katie Gregson MacLeod performs her new song TV Show
The pandemic was a nightmare for many but a strange fairytale for a few. Without the rise of TikTok as a favoured form of lockdown connection, a number of artists may never have had their fabled big break. In summer 2022, Inverness singer-songwriter Katie Gregson-MacLeod became a literal overnight sensation after posting a clip of a new song, Complex, on the social media site at bedtime. She woke up to 100,000 views the next morning, with gushing comments from established artists such as Maisie Peters and Gracie Abrams. A deal with Columbia Records followed, with a full release for the song and an EP titled Songs Written For Piano. Gregson-MacLeod, a former student at Edinburgh University, moved to London earlier this year.
"I still find it hard to process quite how much my life changed," she says. "But I've had a lot more time to reflect this year than at the end of last year. I made a conscious decision early this year to throw myself into the writing process, because for me when that isn't the focus, I feel thrown. Being in the studio is the best and most fulfilling for me. I leave with the sense that I actually might be a singer-songwriter rather than a social media content creator or whatever else my role demands of me."
The results of her latest writing binge are gathered on new EP, Big Red, described by Gregson-MacLeod as "the story of one relationship in five songs". Your Ex and Guestlist are already out there; now TV Show, which she co-wrote with singer/songwriter Matt Maltese, is added to the mix. Her Scotsman Session rendition of the track was recorded in her flat in north London. "The EP was already in my head at this point but writing this song felt like a chapter closing," she says.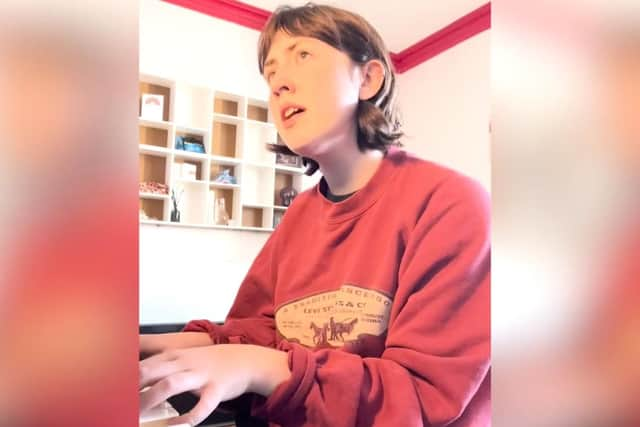 "The last year I struggle putting into words," she says – but still eloquently describes being nominated for an Ivor Novello Award (for Best Song Musically and Lyrically) as "beyond anything I could have anticipated. It wasn't even something I put in my sights because it felt so far-reaching. To have my songwriting affirmed like that was all very surreal. As a songwriter, I couldn't really have asked for a greater honour – unless I'd won of course…
"Then I was into the first proper festival season of my career. I always go into festival slots with a bit of uncertainty, but every gig was the loveliest surprise. Everywhere I went people were attentive, even if they weren't previously aware of my music. My highlights were probably the Radio 1 Big Weekend and Belladrum – the former was the first time I'd heard people singing Complex back to me that loud. The latter felt like coming home, and was a really full-circle moment."
Big Red is released by Columbia Records on 13 October. Katie Gregson-MacLeod plays the Mash House, Edinburgh, on 30 November and King Tut's, Glasgow, on 3 December