The Scotsman Sessions #381: Dot Allison and Alice Allen
Welcome to the Scotsman Sessions, a series of short video performances from artists all around the country introduced by our critics. Here, Edinburgh-based singer-songwriter Dot Allison performs her forthcoming single Double Rainbow, with accompaniment from cellist Alice Allen
Dot Allison makes her second appearance in the Scotsman Sessions with her forthcoming single Double Rainbow, an ethereal hymn to the beauty of the elusive meteorological phenomenon which is said to be a sign of good luck. For Allison, however, science and spirituality come together in her song, performed here in her Edinburgh home studio – "a quirky room looking out onto Craigmillar Castle in the distance – with accompaniment from cellist Alice Allen.
"It's about interconnected patterns in nature and love which may potentially affect us beyond the visible," she says of Double Rainbow. "I like the electromagnetic vibe to the title which ties in with the concept that consciousness is believed by some scientists to be less molecular and more electromagnetic in nature."
For the single version of the track, Allison actually recorded the electrical response of a plant – Brachyglottis "Sunshine", since you ask – on top of her piano and translated the vibrations to a melody. "It was composed on a ukulele originally and was way too psych to belong on my last record," she says. Double Rainbow instead became the gateway to her new album Consciousology, the follow-up to her 2021 comeback Heart-Shaped Scars.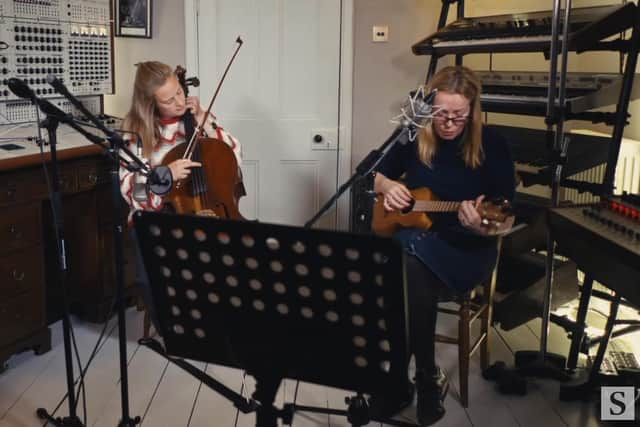 Having taken more than a decade out of music to raise her family, the former One Dove frontwoman and Massive Attack guest vocalist is now on something of a roll. Heart-Shaped Scars was a welcome reintroduction to the breathy delicacy of her songwriting, occasionally dappled with the chill-out electronica with which she established herself as a singer-songwriter back in the Nineties. More recently, she has penned the gossamer theme music to Annika, the Scottish coastal detective drama series starring Nicola Walker.
Consciousology, however, is a more ambitious project, fired by concepts of organic networks and communication, and inspired by her botanist father as much as her musician mother. There are elemental references throughout and Allison's intimate compositions are bolstered and embellished by contributions from Ride guitarist Andy Bell and the London Contemporary Orchestra, with strings arranged by Northern Irish composer and fellow electro-acoustic experimenter Hannah Peel. PJ Harvey collaborator Maria Mochnacz provides the artwork and the late Andy Weatherall is in the mix too, with one song inspired by a Tim Hardin tape he gifted to Allison in the Nineties.
"The album is a collection of music and ideas that explore a living and 'conscious' nature," says Allison. "I hope to inspire people to look at life with these ideas in mind – and there are themes of love woven throughout alongside those other images as I feel it's all one and the same in a way. I feel anything that encourages us to see us and our world as part of a greater synergy might be a constructive thing for us and for nature."
Allison has hit a rich seam and plans to keep up the momentum with an EP in the new year and what she tantalisingly describes as "other projects in the works".
Double Rainbow is released on 11 October. Consciousology is out now on Sonic Cathedral.