The Scotsman Sessions #378: Broken Records
Welcome to the Scotsman Sessions, a series of short video performances from artists all around the country introduced by our critics. Here, members of Edinburgh band Broken Records play their recent single Night Time
Broken Records have acquired a reputation over the last 15 years as one of Scotland's most stirring outfits, able to whip up an emotional musical storm without resorting to pomp and bluster – hence their early reputation as Edinburgh's answer to Arcade Fire. No bad comparison, though one always suspected the band preferred the rootsy vistas of Bruce Springsteen.
In contrast, their forthcoming fifth album, The Dreamless Sleep of the 1990s, pares back their sound, takes the foot off the accelerator, lightens the load and wholeheartedly embraces acoustic instrumentation, like airing a room, rather than shouting from a mountaintop.
"We wanted to focus on melody and for the whole dynamic to have a real early-to-mid Nineties alternative radio feel – something that could sit alongside the likes of REM and The Replacements and not feel out of place," says frontman Jamie Sutherland, who founded the band in 2007 with brother Rory and guitarist Ian Turnbull.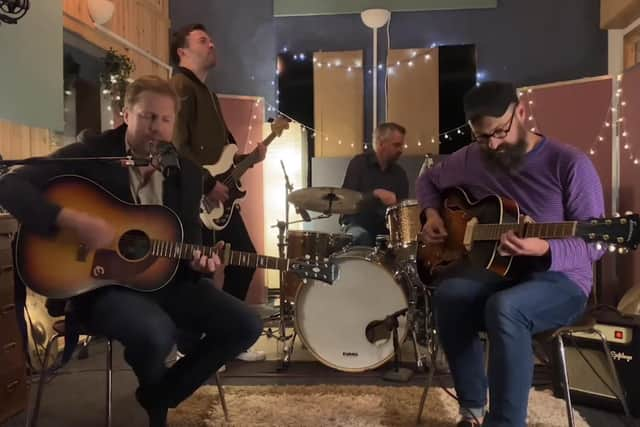 They offer a sneak peek of their new approach with their Scotsman Session rendition of recent single Night Time. "It's one of our collective favourite tunes from the album and one that obviously stood out as a single to us," says Sutherland. "It encapsulates pretty neatly what we wanted to do.
"It's a song about remembering old loves and the sweetness that comes with how they were everything and how those feelings – the simple, sweet pain, elation, and self-indulgence of being heartbroken and young when nothing was really of any consequence – now feel so dwarfed by the magnitude of marriage, children, responsibility, family."
The performance was recorded in The Depot Studios, down at Granton Harbour, which is run by band guitarist Craig Ross. Broken Records recorded their third album Weights and Pulleys in the studio and demoed parts of the new album there too, once it was possible to pivot from the remote sessions of the pandemic.
"The new album definitely does address elements of lockdown, but more in its sense of musical nostalgia," says Sutherland, who reveals that the impressionistic title is very much rooted in reality. "I found myself having some quite intense fever dreams of growing up in the mid-to-late Nineties and of it feeling, for me, like a golden and untroubled time, and this kind of subconsciously started to imprint itself on some of our musical choices. I love it when things like that happen. Subconscious decision-making always feels the most natural way forward."
Broken Records have taken their time to reconvene and move forward post-pandemic – previous album What We Might Know was released back in 2018 when no one could have known what awaited. "It feels like the right time to get out into the world," muses Sutherland, "and we're starting by playing a few dates around Scotland before branching out a little more extensively across the UK."
The Dreamless Sleep of the 1990s is released by J Sharp Records on 2 October. Broken Records play the Voodoo Rooms, Edinburgh, 19 October, Beat Generator, Dundee, 26 October, Tunnels, Aberdeen, 28 October and the Tolbooth, Stirling, 28 October