The Scotsman Sessions #377: Snows of Yesteryear
Welcome to the Scotsman Sessions, a series of short video performances from artists all around the country introduced by our critics. Here, Kat Orr, David Mitchell and Yuuka Yamada-Garner – aka Snows of Yesteryear – perform Wait by the Shore, the opening track from their recently-released debut album
A bewitching alt-folk trio, Snows of Yesteryear shimmer with the stunning beauty and elemental darkness of the Scottish countryside. Their music is delicate, haunted, twilit – it enraptures and lingers.
Vocalist/keyboardist Kat Orr, guitarist David Mitchell and violinist Yuuka Yamada-Garner assembled in earnest during the 2020 lockdown. Orr and Mitchell first met via mutual friends at a Camera Obscura gig about ten years ago, and had gradually built up a body of work.
"But lockdown," says Mitchell, "was, like for a lot of people, a time to get in gear and make a change."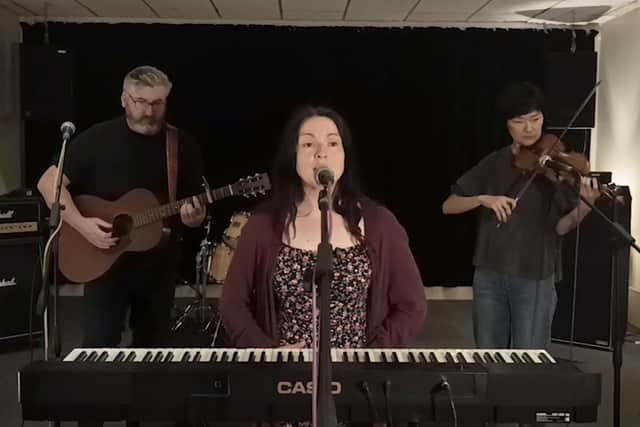 Their self-titled debut album was released in early August 2023. Opening track Wait by the Shore is the song they've chosen to perform for the Scotsman Sessions. As Mitchell explains, "It's really representative of the album overall, it's mostly led by acoustic instruments, it's right in that sweet point."
The official video for Wait by the Shore is a striking piece of work in which the band submerge themselves in the still grey waters of Loch Ard. A very Snows of Yesteryear decision, but did they endure an uncomfortable day in the otherwise picturesque Trossachs?
"Surprisingly, we didn't," says Orr. "The texture of the water at Loch Ard, and Scottish water in general, is just so lovely. We filmed it last September and the water was pleasant. But when we did the trial run last March I went in nice and slowly, whereas David went in waist deep quite quickly. When I got in just above my ankles it was excruciatingly painful. David had the fun experience of just smashing his way in, but it was very cold."
"On the right day it's very meditative," adds Mitchell. "It feels really relaxing. You get that unusual sensation of being in your clothes in water. The people who were the real heroes were our video crew, because they were in the water a long, long time."
Their latest video, for Bubbles Burst, involves fire. "There was a close call," smiles Orr, "a fireball, a backdraft." No one could ever accuse this band of refusing to do their own stunts.
The album was recorded in a Scottish village-based studio, an ideal setting for conjuring up some bucolic spells.
"It was only a ten minute drive from the beach," Orr recalls. "Nature is such a big influence on the music we write, we're big fans of the outdoors, so it was very useful to have somewhere next to the water where you could reflect on the day."
As for the future, Snows of Yesteryear have tentative plans to do their music full justice in a live setting. They've played a few intimate acoustic gigs as a trio, but they want to replicate the album arrangements with additional musicians. That requires some care. All in good time.
"We've spent so long chipping away in isolation by ourselves," says Mitchell, "we're so thankful for every bit of progress we get. It makes us so happy."