The Scotsman Sessions #375: Texture
Welcome to the Scotsman Sessions, a series of short video performances from artists all around the country introduced by our critics. Here, rapper Texture performs a home rendition of Non Zero, taken from his new EP Old Boy
Bram E Gieben has worn many hats in his time – arts journalist, music marketer (for the late, lamented Arches venue in Glasgow), performance poet and podcaster – but rapping and performing using the name Texture has been a constant since 2005. He was a founder member of the Chemical Poets collective and a Scottish Slam Poetry champion in 2015. Still, he feels more comfortable lurking on the fringes of rap.
"I'm a hip-hop artist, but I'm not sure I am part of hip-hop culture or the hip-hop scene," he says. "I consider myself a tourist, and a fan. As an artist, I'm an outsider. Perhaps that stems from starting out as a music journalist, and quitting to write raps."
As Texture, he has released albums on local labels This Is Not Pop and Black Lantern Clan, collaborated with Scotsman Sessions alumni Becci Wallace and Conscious Route and was one of the guest rappers on Post Coal Prom Queen's 2021 hip-hopera concept album Music For Hypercapitalists.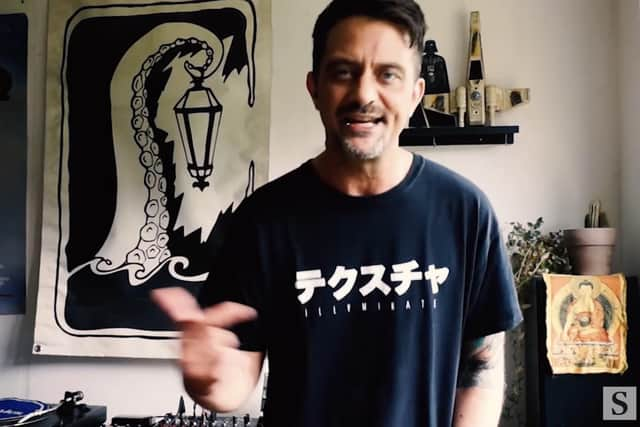 He describes his latest EP, Old Boy, as "the most pop thing I've ever done. Some of the songs are entirely free of rap. I pushed myself to go back to the basics of songwriting craft." For Gieben, this meant reconnecting with his adolescent love of alternative rock and punk acts such as Nirvana and Fugazi, but also looking forward to the flinty, robotic vocal styles of newer artists such as Wicca Phase Eternal and the late Lil Peep.
Old Boy is a collaboration – three tracks each – with young electronica producer/songwriter Eyesluvsu and with Scottish South Asian DJ/producer Supermann On Da Beat, a relative newbie to making beats who runs the Hip Hop Scotland podcast and showcase events.
"Both producers pushed me to make something purer, simpler, and less burdened by expectation," says Gieben. "It's been an evolution and a reinvention for me as an artist, an attempt to write honestly and directly about very personal subjects like ageing, identity, and trauma."
Texture's Scotsman Session is a home rendition of EP track Non Zero which Gieben says is "about the narrow band of time we have left available to avert disastrous futures, whether that be climate collapse, authoritarianism, or the loss of human liberty to machine intelligences, automation and surveillance. But the song's about the present moment, and human relationships, how we have a chance to pull together, which is a more optimistic slant than in my older science fiction-influenced writing. Hosting the philosophy podcast Strange Exiles [since 2019] has changed the way I look at things, letting me discuss topics like this with people much smarter than myself."
Texture will also be getting into a heated but good-natured rap slam exchange with his fellow Chemical Poet Tickle at a co-headline event at the Glad Café, Glasgow on 27 August. "It's a chance to see two best mates try and out-rap each other after nearly 15 years of finishing each others end-rhymes, so it should be a quality show," he says.