The Scotsman Sessions #373: Gareth Williams
Welcome to the Scotsman Sessions, a series of short video performances from artists all around the country introduced by our critics. Here, composer and songwriter Gareth Williams performs one of his Songs From the Last Page, this one inspired by the final page of Jackie Kay's short story, The Pink House
Composer Gareth Williams well knows that feeling of bereavement on finishing a good book – the desire to linger longer with the characters, settings and imagery in which the reader has become invested. His latest musical project, Songs From the Last Page, is a way of prolonging that immersion in a story, using the words from the final page of his chosen text as lyrics for original songs.
This erstwhile Scottish Opera composer-in-residence already has literary form – writing the opera Elephant Angel with a libretto from novelist Bernard McLaverty and adapting the DH Lawrence short story Rocking Horse Winner as a chamber opera. He is also working on a musical called The History Of Paper…
"As a composer and songwriter I have always responded to text – I try to find songs and numbers and arias on the pages of scripts, libretti, and stories," he says. "I conceived Songs from the Last Page as a way to explore and celebrate the books on my shelves at home that I have loved reading. At the project's heart is a love of reading and stories, and also of place, of language, of people."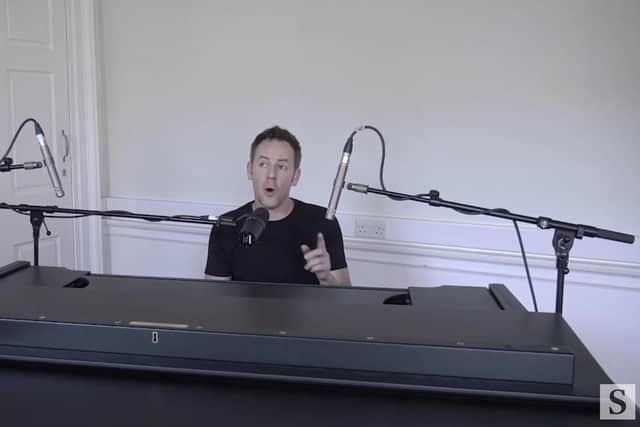 His idea captured the imaginations of writers and readers alike when he toured Scotland's book festivals and libraries last summer, amassing suggestions of suitable last pages as he went.
He has now recorded 11 tracks for a Songs From the Last Page album, covering Scottish classics such as Lanark and Treasure Island and works by contemporary writers including James Robertson, Andrew Greig, Ai Smith, Eli Percy and Jackie Kay. His Scotsman Session, recorded in Edinburgh – "at the nicest piano I could find!" – is inspired by a Kay short story The Pink House.
"The central character in this story, which is just a few short pages, is someone who you care so deeply about by the time you reach the final sentences," says Williams. "The tropes – drinking, sleeping, and dreaming – allowed me as a songwriter to cross over into something universal, to ground the world of this story in the language of popular song. We have all drank too much, and we have all dreamed of someone called Baby. And it's always worth singing about… It's been one of my favourites of the whole collection, and one that always seems to create a nice moment when we perform it live."
Songs From the Last Page continues to evolve as a live show. Accompanied by cellist Justyna Jablonska and violinist Aisling O'Dea, Williams will perform a short run at – where else? – the Scottish Storytelling Centre as part of Made In Scotland's Fringe showcase where, doubtless, he will receive more recommendations of evocative last pages.
"I have written over 30 of these songs from the last page using anything from cook books and diaries to classics like The Great Gatsby and Ulysses," he says. "Perhaps this album should called Vol.1…"
Songs From The Last Page is released on 11 August. Gareth Williams performs Songs From The Last Page at the Scottish Storytelling Centre, Edinburgh, 14-18 August, Lemon Tree, Aberdeen, 7 September and Dundee Rep, 22 September, see https://www.garethwilliamsmusic.com/