The Scotsman Sessions #371: The Kris Drever Band
Welcome to the Scotsman Sessions, a series of short video performances from artists all around the country introduced by our critics. Here, The Kris Drever Band perform Hunker Down / That Old Blitz Spirit, taken from Drever's 2020 album Where the World Is Thin
Singer-songwriter and guitarist Kris Drever's choice for the Scotsman Sessions, Hunker Down / That Old Blitz Spirit, was composed during the Covid lockdown and is, one suspects, a slightly tongue-in-cheek response to the restraints, but there are darker overtones in lines such as "There's a man over there digging graves for the living."
Originally released on Drever's acclaimed 2020 album Where the World Is Thin and featured on his recently released The Best of Kris Drever anthology, the song is played by him alongside multi-instrumentalist Louis Abbott, bassist Euan Burton and vocalist Rachel Lightbody. The video catches them during sound-check while on an 18-day UK tour, taking them from Peebles to London and back to Glasgow with numerous diversions on the way.
When we spoke, Drever was on a day off. Not that he finds such touring a bind: "I do enjoy it – it's the pointy end of my business. Sometimes when I'm out totally as a one-man band, it can be kind of exhausting, but I've got some great people to lean on this time, with Euan, Louis and Rachel."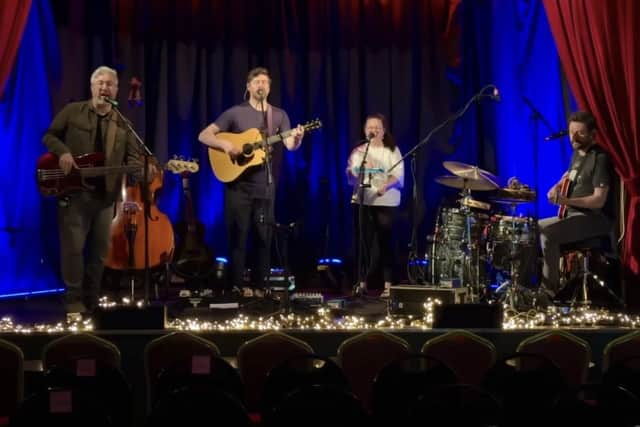 The Best of Kris Drever is an impressive, 36-track retrospective of his work over 17 years, extracted from his four solo albums, from collaborations with the likes of Boo Hewardine, Kate Rusby and Roddy Woomble and of course from his membership of the celebrated "power folk" trio Lau. Listening to it suggests he has a sharp ear for songs of substance, either by himself or from the tradition or by other contemporary songsmiths. "It's partly the extent to which I can believe it, or the extent to which the subject material is artfully dealt with," he responds, when asked what draws him to a song.
Orcadian-born and Glasgow-based, the singer points out that he has lived amid music all his days (his father Ivan Drever co-founded the folk-rock band Wolfstone): "So I have no problem pulling music out of the air, but songwriting is the other aspect of the multimedia project that occupies my time and attention."
A fine example of his craft is a hitherto unreleased number from that "best of" collection, Catterline, a warm tribute to the painter Joan Eardley which, he explains, is composed almost entirely from the artist's own words, researched from diaries and biographies.
He has several new songs percolating, he says, "and having these extra flying hours with these guys on this tour has made it very easy to picture what another record might be." And while little has been heard of Lau of late, he stresses that the trio is far from defunct: "It's just a case of us all having young families, but we will be back." In fact, he suggests the trio may well present one of its Lau-Land mini-fests in Edinburgh in the autumn.
In the meantime, however, the tour schedule beckons for Drever and company to appear at some festivals. He laughs: "I always felt this band would be great for playing in fields."