The Scotsman Sessions #366: Alec Dalglish
Welcome to the Scotsman Sessions, a series of short video performances from artists all around the country introduced by our critics. Here, from a sunny spot in Ibiza, Alec Dalglish of Tiree-formed Skerryvore performs Eye of the Storm, taken from the band's new album, Tempus
With their new album Tempus, Tiree-formed trad folk group Skerryvore have significantly retooled their sound. Yet they haven't gone quite as leftfield as the location for their Scotsman Sessions video might suggest.
"When we tell people we were playing in Ibiza, they get the idea we were playing some clubbing-type thing," says the band's Alec Dalglish. "We were at a festival called Costa Del Folk – they take over a whole complex and bring a lot of folk acts out there to play. It's not quite as 'mental Ibiza' as it might sound!"
The group's chosen song is Eye of the Storm, the latest single from the album. "We thought we would save doing it for Ibiza, so we had a nice setting," says Dalglish. "As somebody else put it, Eye of the Storm is a coming-of-age song – and as I replied, I'm not sure that's quite accurate when I'm almost 38. But it does have that vibe.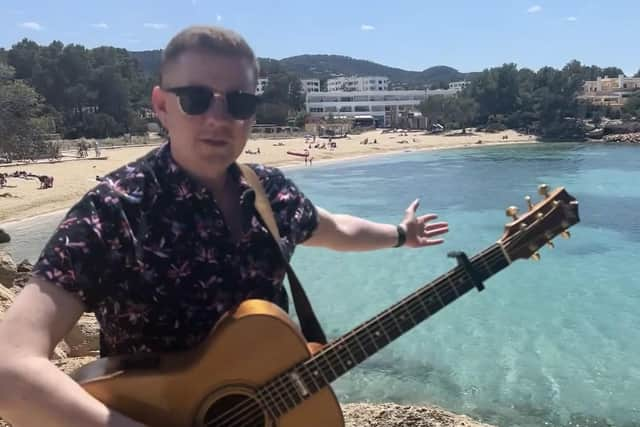 "I think for me, the message of the song is that you have to face a lot of difficult situations in life, but the important thing is to keep pushing forwards with a positive outlook and take what comes at you." It's an attitude which has served Skerryvore well. They've been a well-known name on the Scottish folk and trad scene for nearly two decades, but the new album has finally seen them crash the mainstream.
"Tempus started as a couple of singles we released during the lockdown period," says Dalglish. "There was no intention for it to become an album, but for the first time we got playlisted on BBC Radio 2. That was a big deal for us, after all the years of trying, so we thought, 'now we've got a couple of songs, why don't we continue recording and turn them into an album?' It was born of the time we had in lockdown – which we tend not to have a lot of, because we tour a lot.
"Especially with the instrumental sets, we've always had a rock side to [our sound], but I'd say this one moves over to pop," he continues. "During lockdown I set up my own home studio and experimented more with the writing process, whereas before I'd always written on acoustic guitar. This time I had the ability to pad it out a lot more, which pushed it in a poppier direction in production terms."
Tempus, says Dalglish, has been one of Skerryvore's most successful albums yet. "We got a Scottish number one and a UK top 40 with it, and all four of the singles have been playlisted on BBC Radio 2," he says. "We're delighted with the success it's had so far – we've had a lot of positive feedback. Our fans are very vocal in letting us know what they want.
"We want to get our music to the widest possible audience, and we've always had dreams of moving on beyond just the trad world. We started as a ceilidh band on the west coast of Scotland, and even then we were always trying to be a wee bit different. Hopefully we can continue to grow, while taking the fans with us."
Skerryvore's new album Tempus is out now on Cooking Vinyl. The band play The Reeling festival at Rouken Glen Park, Glasgow, 11 June, and various other Scottish festivals this summer. For details, see www.skerryvore.com