The Scotsman Sessions #364: Brìghde Chaimbeul
Welcome to the Scotsman Sessions, a series of short video performances from artists all around the country introduced by our critics. Here, piper Brìghde Chaimbeul performs a reel which features on her latest album, Carry Them With Us
For this week's Scotsman Session, Brìghde Chaimbeul gives a brisk account on smallpipes of a reel from a tune set magnificently titled Banish the Giant of Doubt and Despair. It may sound like something out of Bunyan's Pilgrim's Progress but is in fact inspired by archive recordings of a venerable Gaelic folk tale.
The full set, involving three puirt à beul (mouth music) tunes, features on Chaimbeul's new album, Carry Them With Us (tak:til/Glitterbeat Records), itself inspired largely by Gaelic archive material, yet a thoroughly contemporary production which she created along with Montreal-based saxophonist and sound engineer Colin Stetson, more widely known as a collaborator with bands such as Arcade Fire.
In contrast to her straightforward performance for the Scotsman Sessions, the sound on the album is extraordinary, giving the impression that Chaimbeul wanted to explore and point up all the resonances, harmonies and harmonics of her instrument, particularly the drones. "I do definitely have a fascination with drones," she says, "although I think, as a piper, that's quite natural because they're right next to your ear when you're playing."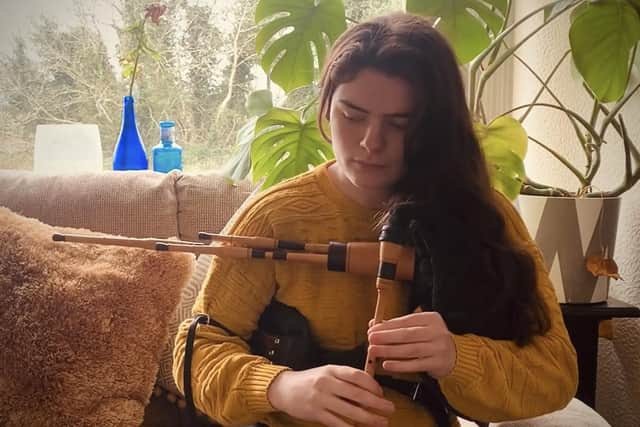 "Colin and I talked about the album sound being like an extension of the pipes, accentuating the drones."
Despite that remarkable sound, Chaimbeul insists there were no studio effects employed during recording: "It was all organic. A couple of tracks were multi-tracked with harmonium and another was double-tracked with saxophone but a lot of them are just smallpipes and saxophone recorded together. The sounds Colin can get out of the saxophone are amazing, so some parts definitely sound electronic, but they're all natural sounds that Colin and I created in the studio."
Chaimbeul, 24, grew up on the Isle of Skye, part of a highly creative, Gaelic-speaking family (her harp-playing sister Màiri contributed a Scotsman Session a couple of years back). Initially learning the big Highland pipes, she then embraced Scottish smallpipes, particularly favouring a set in the key of C by makers Hamish and Fin Moore which she plays on most of the album.
Her notable musicianship has seen her collect a BBC Radio 2 Young Folk Award and later a Horizon award, also from Radio 2, and she found herself playing for a truly global audience when she performed before heads of state at the opening of the COP26 climate conference in Glasgow.
She has also developed an interest in Bulgarian piping, playing some examples on her widely acclaimed debut album, The Reeling. Carry Them With Us, however, as its title suggests, sees her tap into her Gaelic heritage through archive recordings, largely through the invaluable online resource of Tobar an Dualchais/Kist o Riches. "The starting point for the album was stories that had a song or a tune connected to them."
The album also sees her sing on some tracks, pointing up the often neglected historic relationship between Gaelic song and piping. "It's a natural thing for song and pipes to go together and I wanted on this album to use my voice, almost as another texture, with a nod to that connection between voice and pipes."