The Scotsman Sessions #363: Cloth
Welcome to the Scotsman Sessions, a series of short video performances from artists all around the country introduced by our critics. Here, Borders-based twins Rachael and Paul Swinton, aka Cloth, perform the song Ambulance, taken from their new album Secret Measure
Life has moved on for Cloth since their last Scotsman Session in 2020. Since then, Scottish Borders-based twins Rachael and Paul Swinton have signed with Mogwai's Rock Action record label and recorded their second album Secret Measure, which is due for imminent release.
"We were looking for somebody to release our EP Low Sun, and a friend sent it to Stuart (Braithwaite) from Mogwai," says Paul. "He liked it, so we met for a pint and got on like a house on fire. It was apparent this wouldn't be like signing to a normal label, it's one headed up by musicians who are veterans of the game. That was attractive for us – they know what the trials and tribulations are."
The EP was released last year, and where the pair had always made music together in their own studio, Mogwai's inspiration had them recording the album with producer Ali Chant (Perfume Genius, Yard Act, Katy J Pearson) in Bristol, alongside drummer Matt Brown and multi-instrumentalist Jemima Coulter. Yet still, their interest in music with a sense of space (an interest shared with recurring influences the Cocteau Twins or the Blue Nile) persists.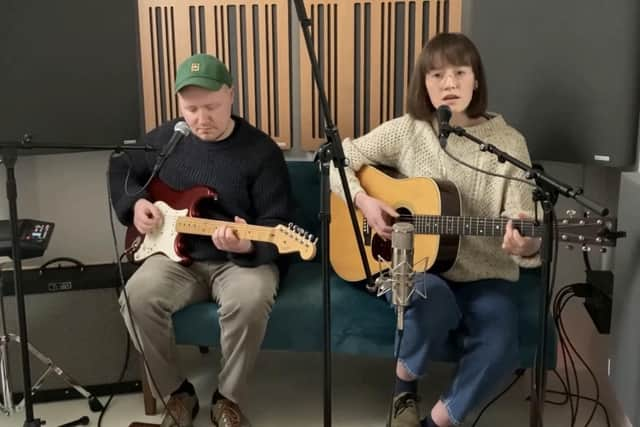 "I'm very proud of Secret Measure, it feels like an expansion of what we were trying to do on our first record," says Rachael. "With that, we were always coming back to the idea of keeping things minimal, of getting to the core of songs and really interlocking our parts without getting too big or grand. With Secret Measure, we allowed things to get bigger, whether that's adding more or different instruments, but we've preserved that space in our music. I feel we've managed to create a grander, bolder sounding record."
Their Scotsman Session is the song Ambulance. "It's one of our favourites, if not our favourite, from the record," says Rachael. "I love the drums on it. It's fun to play live, it sounds really big, but it's short as well. I see it as a condensed little emotional journey. It was written differently to most of the record, which came together over longer periods of reflecting and coming back to songs, whereas this took two or three days to pull together.
"The goal was to get Matt drumming on it, the album was recorded over two weeks and we had a weekend's break in between. We knew Matt was back in the studio on the Monday, so we challenged ourselves to flesh this song out over the weekend and get him drumming on it, because I knew he'd do such a good job. I'm really proud of pushing to achieve that goal, it's so different to how we would normally write. I just want people to hear this song and get excited about it."
For Paul, who wrote all the lyrics on the new album, it has its own meaning. "It's about the aftermath of losing touch with somebody that was a really important presence in your life," he says. "About trying to move past that, but being stuck in a rut with it as well. I was writing about certain friendships and relationships, and this seemed to be a universal feeling across them all, when someone's had that big an impact on your life."
Cloth's debut album Secret Measure is out now on Rock Action Records. They also play TRNSMT, Glasgow Green, 7 July, see www.clothband.com