The Scotsman Sessions #360: Carla Rees
Welcome to the Scotsman Sessions, a series of short video performances from artists all around the country introduced by our critics. Here, flautist Carla Rees performs Progressions of Memory by Neil Tòmas Smith
Last month, a CD of music by an Edinburgh-based composer landed on my desk. Neil Tòmas Smith was unknown to me, but I listened to this debut album, Stop Motion Music, and was immediately taken aback by a refreshing sequence of solo and chamber works remarkable for their luminous originality, compelling charm and intellectual sincerity. One track in particular, Progressions of Memory for solo Baroque flute, encapsulated these qualities in the simplest of terms.
It's played in this Scotsman Session by versatile flautist Carla Rees, also a composer, whose request for an unaccompanied work for the more delicate Baroque instrument appealed to Smith. "As a flute player myself, I didn't have to consult her much, though we did talk and I made some changes based on these conversations," he says.
The inspiration, or the "memory" alluded to in the title, is the Menuetto from Handel's Flute Sonata in E minor. Smith takes the recurring cellular harmonic progression governing Handel's chaconne-like accompaniment and uses it as a subliminal cipher, "ghostly reflections" often hidden from view (as in the fluttering opening tremolos), or later surfacing more noticeably as arpeggiated elaborations.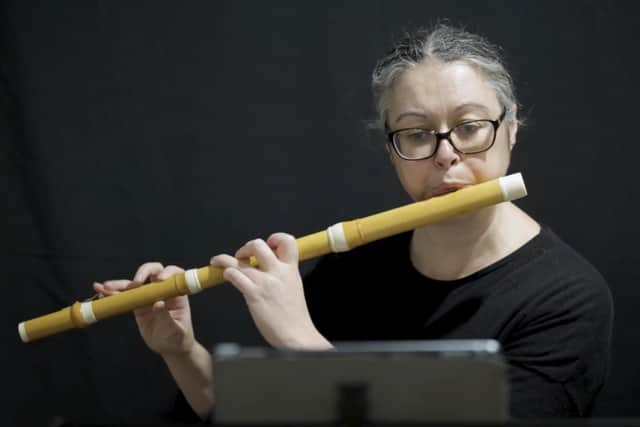 Yet this is not derivative music by any means. Smith is a serious-minded individual who takes considerable time and effort to turn out his finished article. "I like to take an idea for a piece, experiment long and hard with it and take it as far as I can," he explains. Often to the point, as happens here, where the original source material fades into the background.
Nor does he feel bound by stylistic labels. "I was asked recently to describe my compositional style, which is the worst thing you can ask a composer," he says. "I'm not super-picky about how I approach things. I don't mind using traditional tonal ideas, but equally I don't mind writing material that has no tonal basis whatsoever. I'm comfortable – as in Progressions of Memory – creating pieces that operate on more than one layer."
The point Smith has now reached creatively is an accumulation of his roving experience. Born in Edinburgh, he attended Boroughmuir High School and St Mary's Music School as well as the RSAMD (now RCS) Junior School, studying composition with Thomas David Wilson. After undergraduate studies at York University, he moved to Germany to undertake a masters degree before embarking on a PhD at Nottingham. Back in Scotland he now teaches at Edinburgh University.
Three years in Germany had a major impact in shaping his music, not least discovering modernist composer Matthias Spahlinger, later the subject of his doctoral thesis. Like Smith, Spahlinger's inspiration is a collision of diverse influences, from Renaissance to avant-garde, conceptual experimentation to political messaging. "I do find him fascinating," Smith says, "and more broadly that whole progressive German scene, which I was lucky enough to get to know and hear first hand."
Now in his 30s, and with his debut album duly completed, Smith's days as an "unknown" are surely numbered.