This week's Scotsman Session by Lichen Slow – the new project from Arab Strap guitarist Malcolm Middleton and Northampton-based musician and songwriter Joel Harries – is named It's Not What We Thought, and it's the first song the pair worked on together.
"I sent Joel some guitar, he came back with the words and that was it fully formed," says Middleton. "It's the one that spurred us on to do more and it's still one of my favourites."
Harries explains the meaning of the lyrics: "It's about being creative and the struggles that come with that, and feeling that it might sometimes feel a bit futile. But it's always a good and cathartic thing to be doing. It's worthwhile, you know?"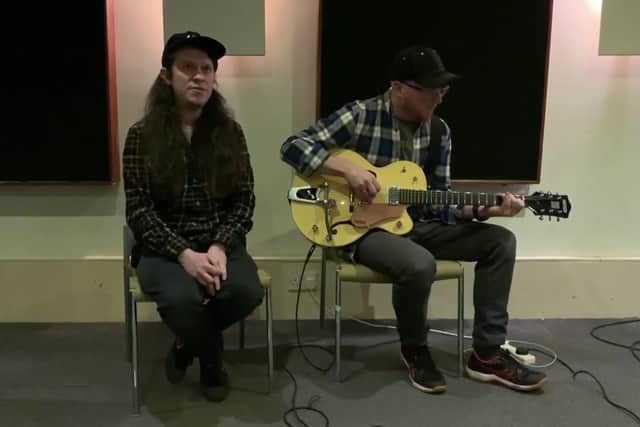 What does Middleton like about the song? "It's a combination of the melody and the sentiment alongside the guitar," he says. "I probably don't even know what the words are, I listen to the tone and the melody, I don't often analyse the words. I like that it's something I wouldn't be able to sing myself, usually when I sing along to my own guitar, I'm following whatever it's doing. So it's nice hearing what Joel's done with the counter melodies and the overall tone."
It's this sense of being able to augment what the other is doing that drew Middleton and Harries to one another. They met while working on separate projects at a studio just outside St Andrews, and clicked when everyone in the studio went out for dinner one night. This was in the weeks before lockdown in 2020; for two years they sent work back and forth remotely, until they realised they had enough songs for an album and should think of a band name (it's a quote from an Iain M Banks novel).
What's the attraction of bringing in someone else's ideas and perspective? "It's a massive thing," says Middleton. "You go through periods when you want to do stuff on your own, and you don't want to collaborate. Then other times you realise you've hit roadblocks and you want to open up and try different things, and there's an element of one plus one equals five.
"When two people collaborate they get something at the end of it that's not what either of them would do. It was immediate with Joel, I knew I loved his voice straight away, the tone of his words. I was really excited that I wasn't going to have to just sit by myself doing stuff."
Their first live dates are coming up, playing as a trio, while more material is being written already – some of it even in the same room this time. "We hadn't really planned to make an album and there was no set goal, so we were both pleasantly surprised as it rolled on and we kept working," says Harries.
"It was very easy for both of us to be creative and enjoy it, just really natural," adds Harries. "There were definitely a couple of songs where it felt like things kicked into another gear, Preset being one of them, and Hobbies, the final track we wrote, another. It was strange to have an exciting moment at the end of writing an album."
The album Rest Lurks by Lichen Slow is out now on Rock Action, and the band play the Hug and Pint, Glasgow, on 28 April, see www.lichenslow.com