Known for decades as one of Scottish folk's most individualistic voices, steeped in balladry and broader folklore and with mystical inclinations in his own songwriting, Alasdair Roberts has alternated more contemporary and ensemble projects such as the Furrow Collective, his collaboration with Gaelic singer Mairi Morrison or with Concerto Caledonia pianist David McGuinness and musician and artist Amble Skuse, with re-immersions in the tradition.
His new album, Grief in the Kitchen and Mirth in the Hall (Drag City), is one such return to the lodestone, featuring a dozen traditional songs, performed mainly with his adept fingerstyle guitar accompaniment. Some are sanguinary "muckle sangs", such as the Baron o' Brackley with its feuding clans and betrayal, a line from which provides the album's title, Mary Mild, a grimmer variant of the more familiar Queen's Four Maries, or the supernatural tragedy of The Holland Handkerchief. These are leavened, however, by a trio of "zoological allegories", including the old Jacobite song The Bonny Moorhen, which he has chosen for his Scotsman Session.
"Not that I'm trying to initiate a Jacobite revival or anything," he laughs. "The melody is a big part of its appeal, but it's also part of a general theme of animal allegories that are maybe a more playful sub-theme on the record."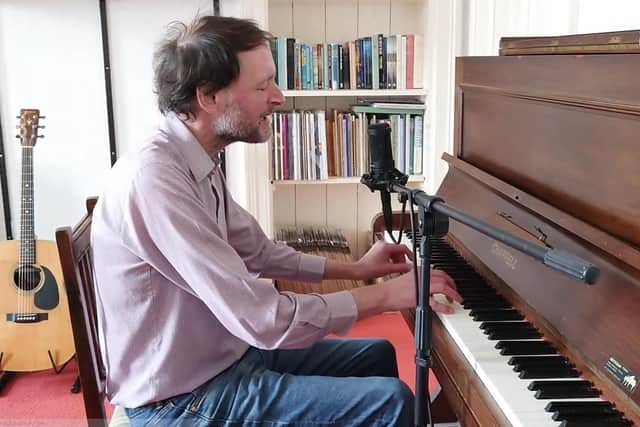 Roberts articulates the song in his grainy tenor, with due attention to lyric clarity, on this occasion accompanying himself on piano. He agrees that many of the darker ballads are infused with an elemental wisdom, morality tales of a sort. "I find quite a lot of psychological subtlety and complexity in the best of them, and also in just the kind of ballad world atmosphere they seem to create. It's like our world but slightly set apart, an uncanny sort of world."
"Their narrative form appeals to me, but also, whereas on previous recordings I might have made a collection of all these big, dark muckle sangs, this time I've tried to balance them with lighter, softer material, miracle songs and more romantic ones. Maybe I was a bit more bloody-minded when I was younger."
Some of the album material he sourced from the copious Tobar an Dualchais / Kist o Riches sound archive, much of it digitised from the famed School of Scottish Studies Archives at Edinburgh University. A dozen years ago he was commissioned to create a project exploring that archive and came up with a puppet theatre version of the ancient Galoshans mummers' play.
The Glasgow-based Roberts now embarks on a UK tour that sees him at Glasgow's Hug and Pint on 4 April and the Soutar Festival in Perth on 29 April. Beyond that, he hopes to re-energise his songwriting, which took something of a back seat since he became a father three years ago. He also plans to renew his project with Mairi Morrison, travelling to Canada to join bass player Pete Johnstone in recording songs collected in Nova Scotia by the Canadian folklorist Helen Creighton – whose work was, in fact, the source for one of the songs on the new album.