Shambolics, an indie band indebted to their jangling Scottish forebears and the yearning defiance of early Oasis, aren't afraid of big pop hooks. Dreams, Schemes & Young Teams, the open-hearted tune they've chosen to perform for The Scotsman Sessions, is an ear-worming case in point.
"We wanted to write an uplifting song with lyrical content about leaving the place where you're from and chasing your dreams and goals," explains singer/guitarist Darren Forbes. "It's become a proper fan favourite live."
Originally from Fife but now based in Glasgow, Shambolics are a five-piece comprised of Forbes, Lewis McDonald (vocals/guitar), Ben Sharp (vocals/bass), Jake Bain (vocals/drums) and the brilliantly named Scotty Paws (keyboards). Forbes and McDonald, who write most of the band's material, first met a few years ago via mutual friends. They'd both dabbled in music prior to that encounter. "Me and Lewis started writing together pretty much as soon as the Shams started," says Forbes, who developed a penchant for songwriting in his late teens.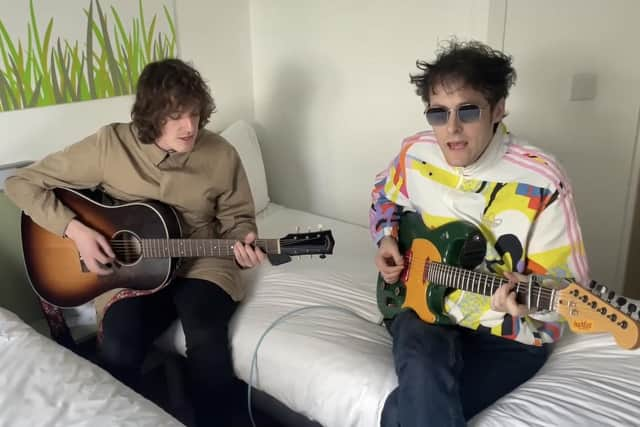 As far as their creative process is concerned, Forbes describes it as an exchange of ideas in which he and McDonald sit down with acoustic guitars in time-honoured eyeball-to-eyeball fashion.
"That's probably how you can hear the pop hooks, because everything is written on the acoustic usually. And if something sounds great on the acoustic then it's going to sound great full band."
Career highlights so far include support slots with Richard Ashcroft, Embrace and The View. They've also released three singles, one of which, Living in Shadows, is a touching meditation on dealing with mental health issues. It's a song borne of personal experience.
"Throughout the years we've seen a lot of mates struggle with mental health issues," says Forbes, "we've even had some ourselves. I think during lockdown we saw that rise a lot and we just wanted to write a ballad type song to give people a bit of hope."
That sensitivity and generosity of spirit is key to the band's appeal. Uplifting anthems are their prolific stock in trade, hence why they've attracted an ever-growing army of devotees. According to Forbes, a Shambolics gig is a truly communal experience.
"The gigs are the most important thing to me," he says. "I think we're more of a live band than one to listen to. The fans really carry the songs. The gigs are wild usually. We have a massive gig at The Garage in Glasgow in April and that one seems like it's really going to go off."
Their latest EP, U Serious Boi?, is released on 14 April, the day before that eagerly-anticipated Garage gig, which kicks off an 11-date UK tour. And after that? Forbes hints at "a couple of things going on behind the scenes," before adding with typically endearing Shambolics optimism, "It's going to be a great year!"