Electric Honey Records, the in-house label of the HNC/D music business course at Glasgow Kelvin College, has been described (by Uncut music magazine) as "the world's most successful student-run record label" – likely because of the label's early, prestigious success with Belle & Sebastian's debut album Tigermilk, now a cult collector's item in its original vinyl format. Or the Starfighter Pilot EP by an upcoming indie rock band called Polarbear – who subsequently changed their name to Snow Patrol. Or the debut EP, thekidswhopoptodaywillrocktomorrow, by a teen trio from Ayrshire called Biffy Clyro, released in 2000.
However, Electric Honey's biggest selling CD album is Self Help, the debut album by Glasgow-based Young Aviators, released in 2013. Ten years on, the label is marking its 30th birthday with a series of shows and single releases spread throughout the year, including a new EP, Embrace the Inescapable, by a reconvened Young Aviators. Their Northern Irish frontman Declan McKay performs an acoustic version of EP track Love for the Scotsman Sessions in the atmospheric ruins of the "hidden castle" in his hometown of Warrenpoint.
McKay describes Love as "a simple, unrepentant love song for anyone who has been lucky enough to have fallen in love. I think it might be the first and only love song I have had the courage to write in nearly 20 years of songwriting."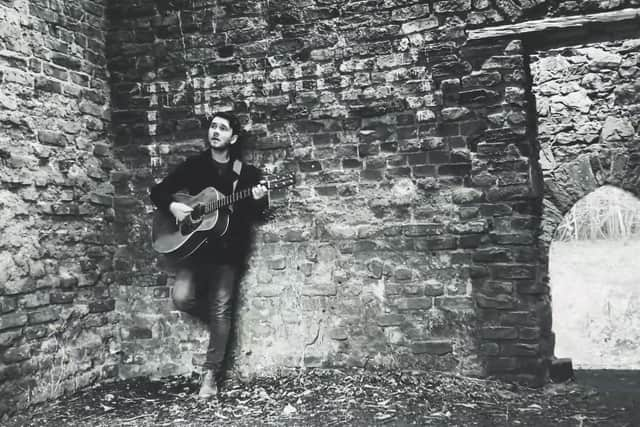 Young Aviators formed in 2000 when the members were all of 13 years-old and went on to tour with the likes of Travis, Reef and The Subways. The band effectively split when McKay moved back to Ireland from Glasgow in 2016 but he retains fond memories of the label which supported them to release their only album.
"Electric Honey is a precious fragment in the history of Scottish independent music," he says. "Their dedication to new and innovative music is a testament to their eye for talent. They opened so many doors for our band. They not only gave us the belief that our music was special and worthy of a larger audience but they helped spin the industry cogs."
In gratitude, the original members reunited to record a new EP for the label. According to drummer John Markey, "we have no plans to reform fully, however I suspect we'll write music remotely when we think of something cool to write. It's amazing to be able to release again, even with the obvious geographical issues. We're really proud of this EP."
The Electric Honey anniversary celebrations are tinged with a bittersweet edge as label founder Alan Rankine (of The Associates) passed away at the start of this year. Bluebells frontman Ken McCluskey has been at the tiller of the good ship Electric Honey for more than a decade now, guiding the students through a busy 30th year which continues with upcoming releases from Glasgow punk band Wine Moms, singer/songwriter Sophie Gibson, Paisley psychedelic garage jazz experimentalists Scunnurt and Land of Rubbermen, before a big live birthday bash in June.