For LT Leif, their kitchen, somewhere on the southside of Glasgow, is their cosy fiefdom, a place to water plants, wash cups and wipe the counter – "a space where I feel grounded, after a long time of being fairly transient and living my life at great distances."
Leif is a veteran of the DIY music scene in Calgary, Canada but has now landed in Scotland via studying stints in Finland and Iceland. Edinburgh called first, thanks to the Canadian connections of community-minded label Song, By Toad. Leif plugged into the local indie singer-songwriter scene alongside the likes of eagleowl, Woodpigeon and other acts not named after birds, eventually recording a gorgeous indie folk album Come Back To Me, But Lightly for Edinburgh/Glasgow label OK Pal and Eigg-based indie empire Lost Map Records, which was released last month.
Come Back To Me features a host of indie music compatriots, from Bills Wells to Faith Eliott, embellishing their bewitching songs, but Leif appears solo from the aforementioned kitchen for the Scotsman Sessions. "I've been doing so much with the full band in loud spaces, I wanted to do a quiet thing that was as close to your ear as possible," they say. "The props behind me are from my recent video and the live show, made in collaboration with OK Pal. It's all quite celestial – I was thinking a lot about orbits and light sources as perceived from the earth."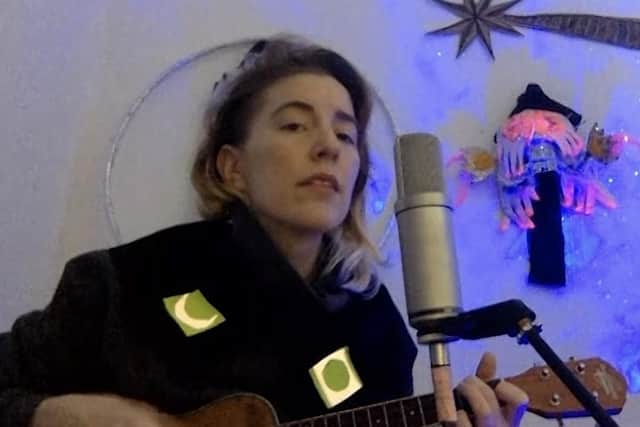 Their choice of track, Taste of Elastic "is a song of longing for the sun that comes from this particular time of year, when the sun is hovering, coming back but so reluctantly. The whole album is about distances, about those things that hover nebulously that we want. Things that feed and nourish or promise to, but that we can't have close.
"It's partially inspired by my own movements and distances," says Leif. "These kinds of spaces can be rough, and I sing this one as encouragement in recognizing what you want, even when you can't have it yet, or ever. To hold that longing gracefully, and to acknowledge its heritage inside yourself."
Leif already has some more "nice recording projects" in the offing and has shows planned across the UK this summer. Closer to home, they will be part of a couple of concerts to mark the centenary of the late, great poet, storyteller and songwriter Ivor Cutler. Glasgow Dreamers: The Songs of Ivor Cutler is curated by Citizen Bravo, Malcolm Benzie and Raymond MacDonald, the trio behind Return to H'Yup, the Cutler tribute album which also birthed a full show at the 2020 Celtic Connections. Leif joins the Glasgow Dreamers band alongside the likes of Delgados frontwoman Emma Pollock and Rick Redbeard of The Phantom Band at Glad Café, Glasgow, 10 March and Summerhall, Edinburgh, 11 March. Come Back To Me, But Lightly is out now on OK Pal/Lost Map.