Singer, songwriter and poet Addie Brik hails from Savannah, Georgia but now lives in Troon, Ayrshire – quite a cultural leap but hardly daunting for an artist who was hanging out with beat poets in her teens, acted alongside the likes of Ed Harris in Francis Ford Coppola's Zoetrope community, was championed as a singer/songwriter by Peter Gabriel and has collaborated with musicians from Simple Minds, Deacon Blue, Red Hot Chili Peppers and Sugarhill Gang in a varied music career.
Her own back catalogue consists of a trio of albums – Strike the Tent, I Have a Doctor On Board, and her recently released collection, That Dog Don't Hunt, with lyrics which started life as poems, some written on an intensive writing course hosted by poet and critic Donny O'Rourke. "The level of writers on his courses are to a very high level," says Brik, "and I quickly realised I'd have to up my game.
"I'm pleased to get back to writing in a more focused way. When I was young and coming from a southern background, I had the confidence that only youth can have. My teachers had encouraged me with my writing and everything I'd submitted for publication had always been accepted. When I went away to university and was living at an old hotel in Boulder, Colorado, I met John Steinbeck Jr and Allen Ginsberg and wasn't at all intimidated by who they were. Like it or not, they were regaled with many of my poems, which they listened to earnestly and gave me incredible feedback."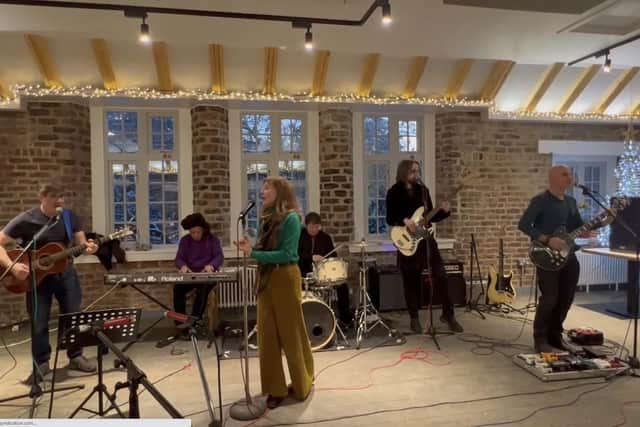 Brik first moved to the UK in 1998 and the Ayrshire coast is now where she lives and works. "Troon was an encouraging place to write and record from during lockdown," she says. "I looked out over Arran, Ailsa Craig, the birds fluttering about and the white caps of the sea. The view overrides all the noise and the walls didn't cave in."
For her Scotsman Sessions rendition of recent single, Retromingent – "based on the idea of leaving the past behind and that love is superior over all" – she kept it local, recording a full band version of the track (with canine cameos) at River Garden at Auchincruive, just east of Ayr, with drummer Jim McDermott, bassist Nick Blythe, guitarist Mick Slaven, acoustic guitarist Doc Livingston and keyboard player Andy Alston. (Alex Wilson is out of shot on tambourine.)
"It is an amazingly beautiful place and recovery centre for men beginning a new life," says Brik. "It was a high adrenaline day, we'd never rehearsed or played the song live, I'd never even met Mick before."
Once again, Brik was unphased – the first pre-lockdown recordings for That Dog Don't Hunt were made with musicians she had never met in southern Spain. She is already mulling over her next move.
"I am thinking duets are what interests me right now, " she says. "I like records like Teatro by Willie Nelson with Emmylou Harris or Nancy Sinatra and Lee Hazlewood, so next for me is writing duets, minimally produced, all together in a room playing live and complete it in a week. Instead of lockdown I'll call it 'We're all locked in together.'"
That Dog Don't Hunt is out now on Itza Records