For the last two months, most of us will have seen little more of the world than that which is visible from our windows, so we asked Sorren Maclean and Hannah Fisher – leading lights of the vibrant music community on the beautiful isle of Mull – to give us a song with a view for the Scotsman Sessions.
After waiting a few days for the weather to settle – "sorry about the wind, not much we can do about the seagulls," Fisher jokes – the pair took their guitar and fiddle a short walk from their home in the south-western corner of the island to a rocky outcrop overlooking the sea beneath perfect blue skies, to record a rendition of the track Watch from Maclean's 2015 debut album Winter Stay Autumn, featuring very faint cameos if you squint hard enough from a few pods of dolphins and even a minke whale. The result is as spectacular and moving as that sounds and more, and will come as a feast for the eyes to any city-dwellers sick of staring at cluttered concrete vistas.
"Not to brag too much, but this spot is just out the front of our house, looking Northwards," explains Fisher. "To the right you have Ulva, Gometra, North and West Mull, straight ahead are the Treshnish isles and Mendelssohn's favourite, Fingal's Cave on Staffa. Further behind you can see Rum, the Cuillin and Coll and Tiree. Just out of shot to the left is Iona too. It's a really special spot."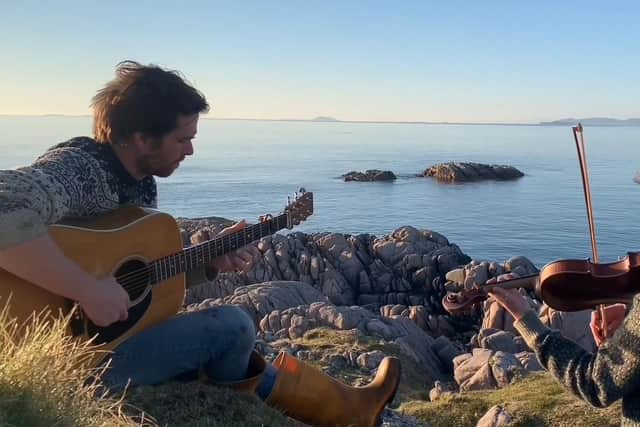 Maclean is a Mull native, while Fisher is originally from Dunkeld. The pair moved to the island from Glasgow seven years ago after establishing careers as session musicians with the likes of Idlewild, King Creosote, Roddy Woomble, Mull Historical Society and Karen Matheson. They also do soundtrack work for TV, as well as writing and performing together as a duo.
"We are definitely feeling grateful to be here on Mull with the space and sea air but also a bit guilty that not everybody has this luxury," says Fisher, of island life on lockdown. "It's been a total change in lifestyle for us in more ways than the obvious as this is the longest we've been on Mull in one stint since we moved here. We'd usually be away for gigs every week or so and away on tour for a few weeks at a time.
"Routine isn't really something we're used to," she continues, "but creativity has come with this in different ways with lots of cooking, work in the garden and fixing things as well as streaming a live gig from our house which was much more successful than we were expecting, with over 9,000 people viewing from all over the world. We're hoping to do another one within the next couple of weeks. Otherwise we've been trying to spend a bit more time recording new music and dusting off previous projects which is something we both find difficult to prioritise over our session work."
Follow @SorrenMaclean and @HaannahFisher on Twitter for news of their next livestream performance