Twin Atlantic may have celebrated their home city of Glasgow with the love letter that was their 2016 album GLA but, for this exclusive Scotsman Sessions performance, frontman Sam McTrusty heads to the sultrier climes of Barcelona – strictly in his mind, of course. "I've been taking the message of staying at home to protect the NHS seriously," he says, "as my wife, sister and mum are all nurses."
And anyway, this recent single is less homage to Catalonia and more "a love song about being in a film loop, which makes fun of love but also puts it high on a pedestal." Stripped of the flinty synths of the recorded version, McTrusty's acoustic rendition keeps the sentiment to the fore.
From Biffy Clyro-esque angular alt.rock beginnings via breezy emo pop/rock to moodier industrial soundscapes, Twin Atlantic have risen to become one of the most ardently regarded bands in Scotland. With their latest album, Power, released in January, the trio were poised for a packed year of touring, including a plum slot at hometown hoolie TRNSMT. They are among the acts who have already pledged to return for the 2021 rematch.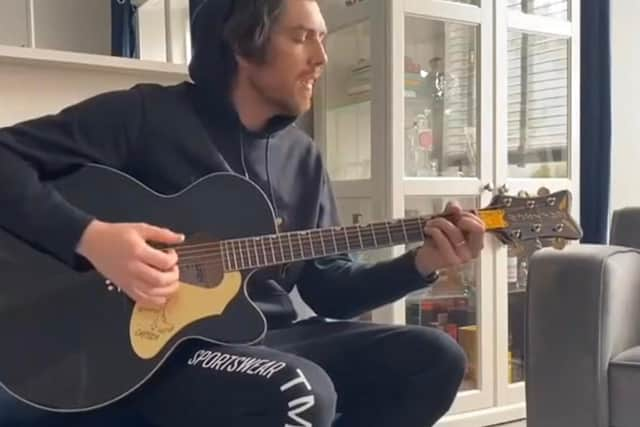 Since winding up their planned UK tour in the middle of March, the members have thrown themselves into selected online benefit gigs and a flurry of remote writing and recording, with McTrusty setting up a makeshift studio in what was his daughter's nursery – "she doesn't seem to have noticed just yet!"
But it is to his living room that we head for this downhome delivery of their newest earworm. "Forgive the lack of a suit for this performance," says McTrusty. "As with everyone working from home in the current situation, I'm making the most of the downtime by wearing comfortable, ahem, leisurewear..."