The Scotsman Sessions #29: Carla J Easton
Welcome to The Scotsman Sessions. With the performing arts world shutting down for the foreseeable future, we are commissioning a series of short video performances from artists all around the country and releasing them on scotsman.com, with introductions from our critics. Here, Carla J Easton turns herself into a quartet to perform a haunting version of her song Dreamers on the Run.
The process of creating and releasing music comes in cycles, and for Glasgow-based singer-songwriter Carla J Easton, the point at which things were all about to happen for her forthcoming album Weirdo – the follow-up to 2018's Impossible Stuff – has unfortunately coincided with the peak of the Coronavirus crisis. She has a single, Get Lost, due out later this month, then an album, Weirdo, tentatively planned for August.
"Traditionally you don't release albums in August because it's like, summer and festivals, but none of that's happening so there might be space to cover new music being released," she says. "I don't think I'll be the only one who ends up doing that. You don't want to say you're taking advantage of the situation, it's more that the old situation doesn't exist anymore, so what do you do? There's part of me that's absolutely terrified about that, though, because it's so ingrained in me that I can't release in certain months of the year."
The album was recorded and partly written with Scott Paterson, ex of Glasgow's mighty Sons & Daughters, who Easton plays alongside in the latest live iteration of the Vaselines. Unlike the full-band Impossible Stuff, says Easton, the new release is "very studio-based, exploring synth sounds and electronic drums, which I touched on in the last album, but this album's a full exploration of it. And it's really pop, as well." Guest vocalists include Honeyblood's Stina Tweeddale and Dave Hook from Stanley Odd.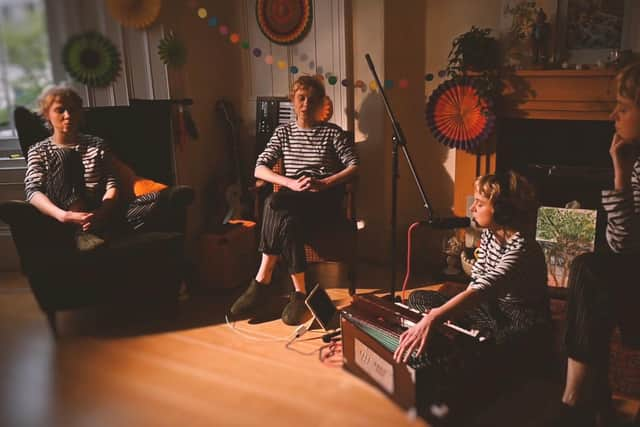 For her Scotsman Session, Easton has chosen to perform Dreamers on the Run from Impossible Stuff. "I just thought it was fitting," she says. "It's a song about memories and cherishing friendships, and I feel like right now a lot of us are missing physical interaction with our friends and families – holding those memories close is good. In the video there are four of me. I miss live gigs and have become my own audience in the flat, so I imagined being able to join in with myself singing."
Carla J Easton's single Get Lost is out later this month, and the album Weirdo is planned for release in August through Olive Grove. More info will be posted at www.carlajennifereaston.com and through her social media channels.