"It's about long Covid, actually," explains Tamara Schlesinger about Reach Out, the song she's recorded at home in Glasgow for her Scotsman Session, under her recording alias MALKA. She's had to contend with Covid-19 symptoms herself, having contracted the virus nearly a year ago, but she says she's improving. The inspiration for the song is an unexpected discovery, because the it bounces with an infectious electro-pop enthusiasm which has earned it airplay on BBC 6 Music.
A similar sense of positivity comes from speaking to Schlesinger herself. "It's also about looking for some brightness and light, for something positive to come in the future," she explains. "It's been really hard for everyone in lockdown, we've had dark days, and I felt the only way to get over everything that's been going on this last year was to believe there'd be some light at the end of the tunnel. I hope that others connect with that sentiment."
Born in London and raised in Glasgow from the age of eight, Schlesinger studied fashion at Central St Martin's College in London, where friends talked her into answering an audition for a music project. She ended up working with former Culture Club producer Steve Levine and meeting her future bandmates in folk-pop group 6 Day Riot, before moving back to Glasgow when her eldest child started school in 2016.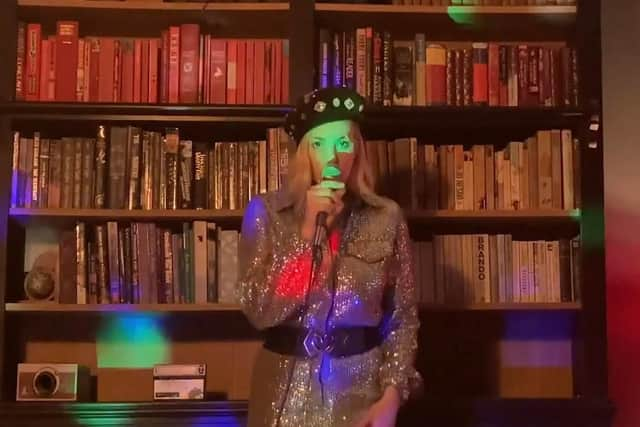 "When I started MALKA I purposefully stopped picking up any acoustic instruments and went all-out electro," she says. "I didn't want anyone to think I'd left the band to do the same thing." Her fashion training is put to good use with the great costumes she creates; especially since having children, she likes "to put on this other hat, to just to be a different person and completely let myself go onstage."
Despite the setbacks of the past year, Reach Out has earned a lot of attention and a new single is imminent, while Schlesinger has also instigated a new, Creative Scotland-funded all-female and non-binary songwriting project named Hen Hoose. Featuring well-known names like Emma Pollock and Karine Polwart, it should result in an album later this year.
A message from the Editor:
Thank you for reading this article. We're more reliant on your support than ever as the shift in consumer habits brought about by coronavirus impacts our advertisers.