In every sense, Alastair Savage has more than one string to his bow. The day job has him seated and suited among the orderly violin ranks of the BBC Scottish Symphony Orchestra in repertoire tailored for Radio 3. Out of hours, and out of formals, he's a foot-stomping fiddler whose clean, instinctive style graces four successful albums that have earned him and his fellow trio plaudits ranging from "raucous" to "wistful".
On his film Scotsman Sessions film he is in the latter mindset, performing Burns' immortal song of man's humanity to man, a sentiment that seems entirely fitting as otherwise civilised folk fight like cats and dogs over the last loo-roll in the supermarket.
"There's something about this melody that makes me feel Burns heard it before he actually wrote the words, not the other way round," says Savage. "It's got a mystery of its own."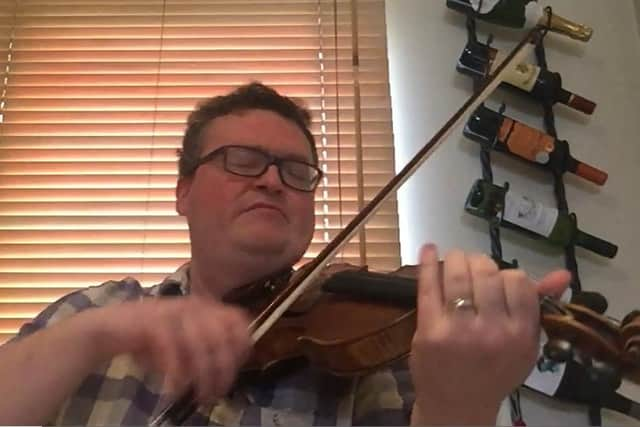 Born and raised in Ardrossan, Savage's musical interests were always divided between traditional and classical. Transition to the specialist music school at Douglas Academy in Milngavie, then advanced studies at what is now the Royal Conservatoire of Scotland and London's Royal Academy of Music never quashed his wider ambitions. Nor did his appointment 23 years ago to the BBC SSO.
Is he conscious of a beneficial cross-fertilisation? "There's something about traditional-style bowing patterns that helped me early on with fast passages in Handel." Has he ever been tempted to throw an impromptu twiddle into a Mozart symphony? "I regularly do; I just hope nobody notices," he jests.
He regularly jests. Friends call him "Killie", an affectionate acknowledgment of his self-declared obsession with Kilmarnock Football Club. Is that his single failing? "I like to quote William McIlvanny, who said: 'you don't actually support Kilmarnock; you suffer with them'."