While the past year has been challenging, to say the least, for most musicians, Nathan Evans has benefited from the perfect storm of pandemic isolation and greater time spent online to become one of the spectacular success stories of lockdown.
Last summer, this (now ex-)postman from Airdrie started uploading lo-fi performances of sea shanties – including cheeky tune The Scotsman – to social media channel TikTok pounding out the beat on the back of his guitar and layering on harmonies.
By the end of the year, he had scored a global viral hit with his version of New Zealand whaling song Wellerman which spawned the awkwardly named ShantyTok phenomenon plus celebrity covers by the likes of Queen guitarist Brian May, Gary Barlow and Ronan Keating, and the you-know-you've-made-it-when… honour of a skit on Saturday Night Live.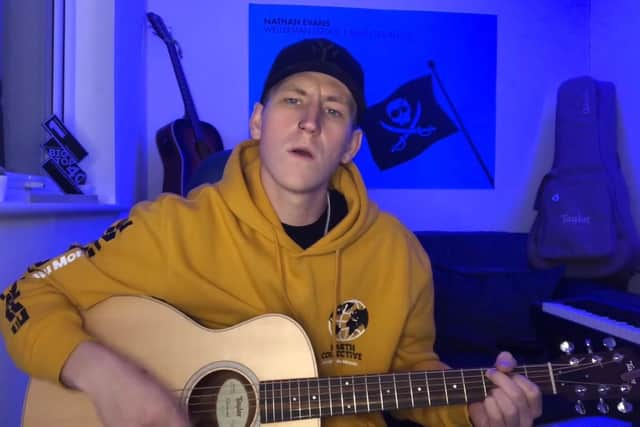 Evans, who has been singing since he was six years old, has embraced his overnight sensation status, signing a three-album deal with Universal Records, charting throughout Europe and beyond with Wellerman and its accompanying remix and, in a nice nautical touch, penning a bespoke shanty for the good ship Blue Peter.
For his Scotsman Session, Evans has recorded a version of Wild Mountain Thyme, filmed in his now globally recognised wee back room. "It's one of my all-time favourites," he says. "You can pretty much feel Scotland through this song."
With a sea shanty EP to come and a UK tour booked for December, Evans reflects on a year like no other.
"There have been tough times," he says, "but I have had a lot more highs than lows. I have taken this time to practice and keep learning. If it wasn't for this lockdown, who knows where I'd be. I don't even know if I would be uploading to TikTok, never mind singing sea shanties for the world!"
Nathan Evans plays King Tut's, Glasgow on 12 December
A message from the Editor
Thank you for reading this article. We're more reliant on your support than ever as the shift in consumer habits brought about by coronavirus impacts our advertisers.