Singer-songwriter Adriana Spina isn't quite sure where she got her musical talent, but it was there from a young age. "I was singing since before I could talk, my parents must have been demented," she says. "They weren't into music more than the next person, but I was obsessed. My grandmother used to love singing to me, though, as grandmothers do."
Growing up in the 1990s and loving Nirvana and Pearl Jam, she sang with rock bands in her hometown of Livingston (her mother is from Edinburgh, her father is Sardinian). "But it was always the boys writing songs, and it didn't take me long to decide I could write something better," she recalls.
A fan of Tori Amos and Joni Mitchell, Spina studied music at Glasgow University, but the academic element wasn't for her and she switched to philosophy. She self-released the albums Never Coming Home (2011) and Let Out the Dark (2017), and has played support slots for Sheryl Crow at Glasgow Academy ("purely through the power of harassing the promoter until he gave me the gig") and Joan Armatrading, who invited Spina to tour after she played one support date.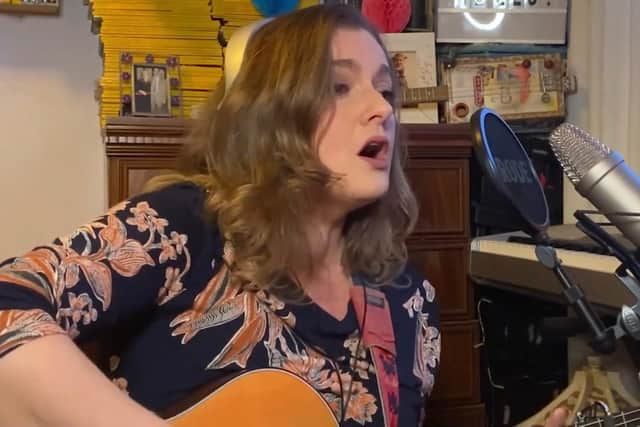 Lockdown has slowed her third album, produced and co-written with Boo Hewerdine, but the extra time has allowed her to refine the songs ahead of planned remote recording sessions. "I've been really experimenting with my approach," she says. "It's opened up what this album can be – hopefully it'll give it a bit of an edge." In the meantime her Scotsman Session, Little Things, is a tribute to the grandmother who sang to her, who passed away in 2019.
"I'd be getting a clout round the head if she thought I was being maudlin," says Spina, "but she was the first person I'd ever lost I was close to, and the way I work through things is writing about them." The title refers to a box of her grandmother's things given to her by her father.
"People go through grief every day, but it's so magnified right now. A lot of people are going to be sitting looking at their dad's armchair, or the slippers they left behind when they got taken to hospital. These inanimate things seem so inconsequential, until the connection with them is lost." Her song, she hopes, might offer a little comfort.
A message from the Editor:
Thank you for reading this article. We're more reliant on your support than ever as the shift in consumer habits brought about by coronavirus impacts our advertisers.