"It's funny how small the world feels when you can't go anywhere, but you can reach people everywhere," says Stuart Braithwaite, guitarist with Mogwai, in the week the band's mighty tenth album As the Love Continues looks set to become their most successful yet.
The uncertainty of this moment must feel especially acute to a rock band whose seemingly tireless international touring schedule is their bread and butter, particularly when streaming has hit music sales. Yet for Mogwai – Braithwaite, Barry Burns, Dominic Aitchison and Martin Bulloch – any doubts about putting out a mid-pandemic record seem put to rest.
Recorded just before Christmas at the Tramway in Glasgow, their live concert to launch the record gathered widespread attention when it was streamed earlier this month. Meanwhile, reports at the beginning of this week suggest As the Love Continues is the leading contender to be the UK's number one album, which would make it their first.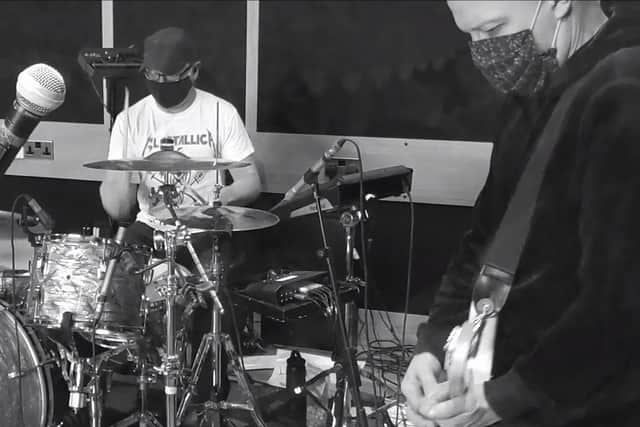 "It's going amazingly well," says Braithwaite. "And it's so beyond any of our expectations that it just feels totally surreal, to be honest. People have been really receptive to the record – whether it goes to number one or not, just having so many people listening to it and being nice about it's really great."
Perhaps everyone being stuck at home has deepened audiences' appetite for music, or maybe Mogwai's increasing fame as soundtrack artists, most recently for acclaimed Italian crime drama ZeroZeroZero, has broadened their appeal. Either way, that they were able to record a Scotsman Session version of the new album's Supposedly, We Were Nightmares (edited by Kenny Mcleod) at the end of rehearsals for their recent Mary Anne Hobbs session on BBC Radio 6 Music is a great pleasure.
"That one was sounding good in the room, so we thought we'd do it for you guys," says Braithwaite. "We were wearing masks and trying to keep a good distance for the rehearsal and recording of the album, so doing it that way was fine. I like tickling Barry, so not being able to do that's been hard – but apart from that, we're doing alright."
A message from the Editor:
Thank you for reading this article. We're more reliant on your support than ever as the shift in consumer habits brought about by coronavirus impacts our advertisers.