The Scotsman Sessions #18: James Yorkston
Welcome to The Scotsman Sessions. With the performing arts world shutting down for the foreseeable future, we are commissioning a series of short video performances from artists all around the country and releasing them on scotsman.com, with introductions from our critics. Here, from his studio in Cellardyke in Fife, James Yorkston plays Queen of Spain from his 2008 album When The Haar Rolls In.
There is something of the spartan solemnity of a Vermeer painting about James Yorkston's spellbinding contribution to The Scotsman Sessions – the dark wood and the sombre light indoors contrasting with the hazy blue view through the window of his Cellardyke studio, across to the lump that is North Berwick Law, just visible on the horizon.
Like the Dutch master, Yorkston knows a thing or two about composition – but his tableaux are etched on acoustic guitar and delivered in his mournful yet soothing tones.
Since coming to prominence as part of Fife's Fence Collective in the early 2000s, Yorkston has produced nine solo albums, as well as a number of limited releases. His Scotsman Sessions song comes from his 2008 album When The Haar Rolls In.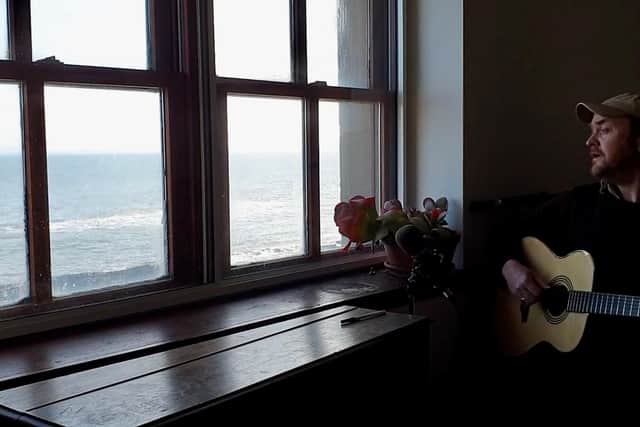 "I chose Queen of Spain as it tells the story of various explorations into the great outdoors, something I'm sure we could all be doing with now," says Yorkston. "Though I'm not finding isolation difficult, really. I get out once a day onto the beach. The rest of the time, I'm working, writing, singing."
Yorkston was somewhat ahead of the isolation curve, having already recorded many editions of his 46-30 podcast series in which he and Anstruther-based organic brewer/indie label owner Stephen Marshall play an eclectic selection of "quality music of no fixed abode".
But, like any jobbing musician, touring plans have gone by the wayside, including dates with Yorkston Thorne Khan, his collaboration with English jazz bassist Jon Thorne and Indian sarangi master Suhail Yusuf Khan, whose third album Navarasa: Nine Emotionswas released earlier this year.
"The hardest part for me is worrying about my elderly parents," says Yorkston of the stay-at-home guidance. "Cancelling a couple of dozen gigs I'm actually okay with. It's meant I'm seeing more of the children and less of the airport."
Navarasa: Nine Emotions is out now on Domino Records. Hear James Yorkston's 46-30 podcast at https://anchor.fm/46-30