Rootsy Scottish singer-songwriter Kerri Watt has roamed free and wide since moving to California aged just 16 to study performing arts. A burgeoning solo career over the last few years has seen her tour the UK and Europe, opening for the likes of Keith Urban, Embrace, Nina Nesbitt and Mike and the Mechanics, as well as performing at festivals including Glastonbury, Country2Country, British Summer Time and Celtic Connections. Released last month, Watt's long-awaited debut album Neptune's Daughter was recorded in 2018 in Austin, Texas, with the unlikely figure of Gene "Machine" Freeman – an American metal producer more accustomed to working with the likes of Clutch, Lamb Of God and Fallout Boy – at the controls.
The global pandemic, however, has seen Watt land with a bang… back in her native Milngavie. "I filmed this Scotsman Session from my home studio just outside Glasgow," she says. "I feel really lucky to have this space to escape and create in – it's definitely helped me stay motivated."
After several years of practically non-stop touring, becoming rooted at home again was "a welcome break," she admits. "For a couple of months. But it wasn't long before I really started missing the buzz of live shows – especially over festival season. I've kept in touch with my listeners through livestreams, some from home and a couple on location and it's been a whole new kind of fun getting to engage people on a more intimate level."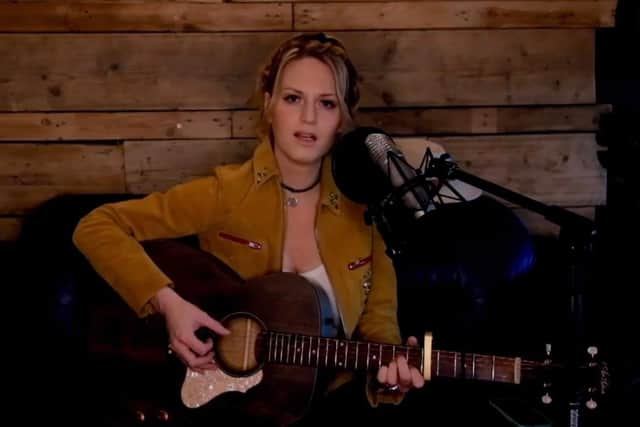 Lockdown has proved surprisingly productive, yet also frustrating. "But it's been peppered with some real happy and positive moments too," Watt reflects. "I've felt the emotions we've all felt, while acknowledging I'm in a fairly lucky position with a nice place to live and family close by. Creatively, there have been ups and downs, but I've had the time to dive into some projects I had put to the side due to time constraints in the past, so it's nice to see that work finally coming to fruition."
The song Watt has chosen for her Scotsman Session, Cut Me Loose, was the first single released from Neptune's Daughter. "I feel it's a great intro to my sound and style for people that will be hearing me for the first time. It's a song I think most of us can relate to – cutting yourself loose from a relationship, be that romantic, work or otherwise and finding the strength to move forward. It seems especially poignant right now as people have had some perspective on their lives over the past year and many have made hard decisions to make a change for the better."
A message from the Editor
Thank you for reading this article. We're more reliant on your support than ever as the shift in consumer habits brought about by coronavirus impacts our advertisers.
Joy Yates, Editorial Director