"It's funny that you use the word 'conceived' – that's the best description," says Jon "Fratelli" Lawler of the origins of his band's forthcoming, pandemic-delayed sixth album, Half Drunk Under a Full Moon, which was recorded in Los Angeles in the summer of 2019. "I have a constant need to write songs, and sometimes after four or five that fit vaguely well together, that might be the beginnings of the next record.
"This album was more deliberate, though, there was a very definite direction. For some reason, before I started writing I could hear the finished album – I just had to follow that sound in order to bring three-and-a-half-minute pop songs together. 'Conceived' seems like the perfect description of that."
How would he describe that sound? He can't quite put his finger on it: "I'm sure it can't have escaped the notice of the people who've liked what we do from the beginning, those poor souls, that if you compare the first record to where we are now, it's hard to imagine it's even the same group of people. An easy description would be to say it's a colourful group of songs; they feel multi-coloured."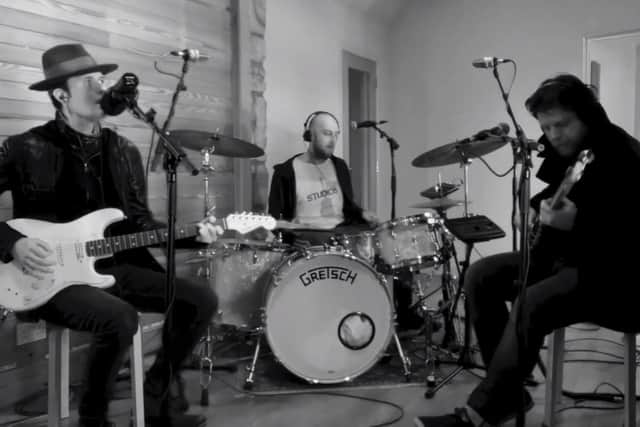 The Fratellis' Scotsman Session, Action Replay, was recorded while the band were at work in their well-ventilated Glasgow studio (hence the coats). It's a much more thoughtful and reflective sound than the barroom rock of the enduring signature track Chelsea Dagger, which testifies to a band whose following is still strong enough to allow them to mature and develop. Their last album, 2018's In Your Own Sweet Time, was a UK top five hit, their highest-placed in a decade.
"It's one of my favourite songs from the album," Lawler says of Action Replay. "The chorus says 'one plus one makes three, I guess that's true to some degree / four plus four makes nine, it's been proven every time'; you can probably glean from that… it's not taking itself too seriously. It's just another chapter in my long and constant search to find pretty melodies."
The Fratellis' new album Half Drunk Under a Full Moon is out on 9 April on Cooking Vinyl. See www.thefratellis.com
A message from the Editor:
Thank you for reading this article. We're more reliant on your support than ever as the shift in consumer habits brought about by coronavirus impacts our advertisers.
Joy Yates, Editorial Director