Over the past ten months, the Scotsman Sessions have provided a window on to diverse corners of Scotland – and sometimes further afield – during lockdown. Colin Macleod's contribution – filmed on his Lewis croft "between checking the sheep and trying to train a new puppy" with the widescreen cerulean sky and sun-drenched machair of the Eye Peninsula as his backdrop and his sheepdog at his feet – has to be one of the most scenic performances to date.
Macleod is an island native but once felt he had to move away to pursue a music career. Around a decade ago, he recorded briefly for a major label as The Boy Who Trapped the Sun before returning to Lewis to fish, farm, surf and reconnect with his roots. His 2018 album Bloodlines drew inspiration from family stories and Hebridean history, with songs about the Iolaire disaster of 1919 and the Lewis Awakening of the 1950s.
The follow-up album, Hold Fast, is slated for release this summer and features a couple of duets with celebrity fan Sheryl Crow. For his Scotsman Session, Macleod mines the melancholy of his favourite new track, The Long Road, a gravelly meditation on grief and recovery with obvious resonances during the pandemic.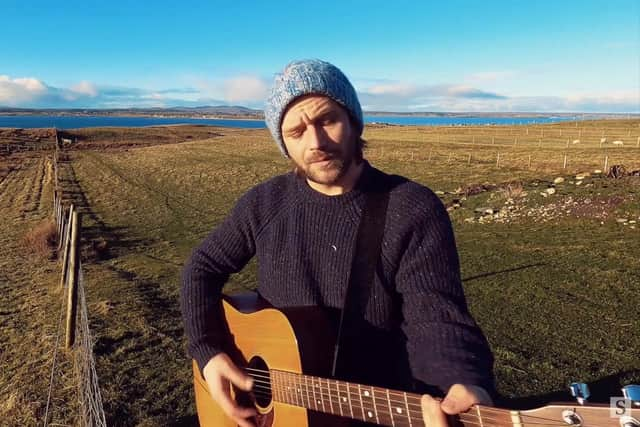 "It's been a hellish time for many and most of my thoughts on lockdown have been for the people who have lost loved ones and really suffered as a result of the restrictions," says Macleod.
"I'm fortunate in that when I'm not on tour my life is pretty isolated anyway, so things haven't changed much – it's just that I've been at home all the time instead of some of the time.
"Apart from looking forward to my new album coming out, I'm not thinking too much about the future, just trying to enjoy what I have and where I am."
A message from the Editor
Thank you for reading this article. We're more reliant on your support than ever as the shift in consumer habits brought about by coronavirus impacts our advertisers.
Joy Yates, Editorial Director