The Scotsman Sessions #17: Cillian Ó Ceallacháin
Welcome to The Scotsman Sessions. With the performing arts world shutting down for the foreseeable future, we are commissioning a series of short video performances from artists all around the country and releasing them on scotsman.com, with introductions from our critics. Here, Cillian Ó Ceallacháin of Scottish Opera performs Evelyn Glennie's A Little Prayer from his flat in Glasgow
It's not an easy time for any musician at the moment, robbed of the live audience buzz. But spare an extra thought for trombonists like Scottish Opera principal Cillian Ó Ceallacháin, a Glasgow flat dweller who's had to ration his home practice during lockdown to spare his neighbours' ears. But surely they're the lucky ones getting live music for nothing? "I hope they see it that way," says Cork-born Ó Ceallacháin.
Of course, put a trombone in the hands of someone who can extract every aspect of its potential - from the ethereal ensemble glow Mozart prescribed in his Requiem and Mahler in his "Resurrection" Symphony, to the high-pitched sensuality of the famous Ravel "Bolero" solo or the demonic depths explored by Wagner and Verdi in their operas - and its sonorous magnificence is spine tingling.
Not surprisingly, Ó Ceallacháin lives for such moments, his favourite being the glorious chorale that marks the climax of Brahms' First Symphony. Not that he experiences Brahms much in his current job.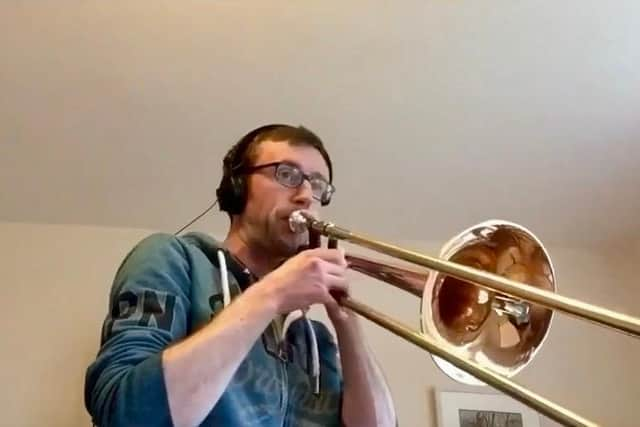 He joined Scottish Opera three years ago, following undergraduate studies at the Royal Conservatoire of Scotland and a masters in Berlin. For now, his most recent thrills have come from the likes of Britten and Puccini. "I'm really enjoying discovering new repertoire, which is so different from the symphonic music I played as a student and freelance player," he says.
I'm guessing his neighbours weren't complaining when he recorded Evelyn Glennie's "A Little Prayer" for the Scotsman Sessions, its seraphic innocence imbued here with the rare homogeneity Ó Ceallacháin achieves by playing all the parts himself.
Glennie wrote the melody when she was 13 while increasingly conscious of her impaired hearing. This version, actually scored for tubas, is by Steven Williams. "I came across it at my brother's wedding," Ó Ceallacháin recalls. "I love it's profound simplicity." Who wouldn't?