The Scotsman Sessions #165: Jen Athan
Welcome to the award-winning Scotsman Sessions. With performing arts activity curtailed for the foreseeable future, we are commissioning a series of short video performances from artists all around the country and releasing them on scotsman.com, with introductions from our critics. Here, Glasgow-based singer-songwriter Jen Athan performs her new song Summer Nights
Jen Athan first came to the attention of the Scotsman Sessions when she was featured by the online version of Scots music education and networking seminar Off the Record in December. Her song Summer Nights – which she performs here – was highlighted for a feedback session after she took a chance and sent it in.
"I was like 'it'll be cool if they heard my music, but I'm sure everyone will be sending theirs' so I wasn't too het up about it," says the 24-year-old. "It blows my mind that people liked a song I made in my bedroom, though." She started this one a year ago, and then set it aside until Off the Record was near.
"I'm really great at writing a verse and chorus and then abandoning it," says Athan of her multi-tracked performance. "This year, because I've had nothing else to do, I've been going through the hard drives and this song really stuck out – I liked the change in it and really wanted to finish it. It's probably about some stupid boy that broke my heart or something, my typical song!" (her Twitter bio describes her as a "maker of sad girl pop.")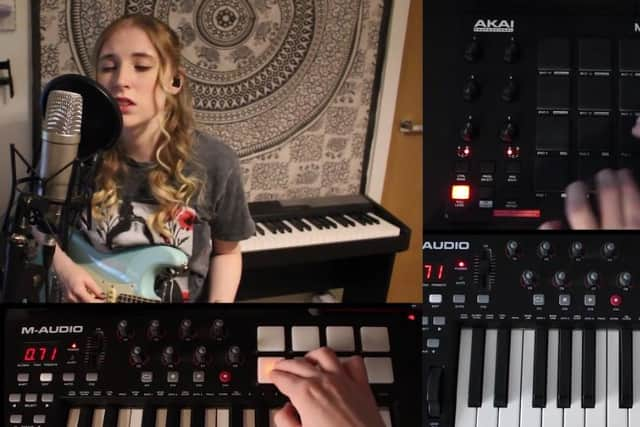 From Aberdeen but now Glasgow-based, Athan jokes she knew she wanted to be a performer when she saw The Singing Kettle at the age of five. She learned violin, then piano, guitar and drums, and studied music at college in Aberdeen and at the University of the West of Scotland in Ayr, releasing an album of classical piano named Vinter Allee while she was there. She's also composed for film and theatre, including with her friend Aimee Buchanan on their Scottish Youth Theatre-supported show for young audiences, Kid Astronaut, in 2018, and created work for BBC's Social.
"As I'm classically trained, I sometimes feel like that's where my heart is, like every part of my music comes from knowing the theory behind it," she says of the debut album, "but at the same time I was also quite scared, I didn't like the sound of my own voice." This year has changed all that – joining an online songwriting group during lockdown gave her confidence to make the type of music she wants.
The single Somebody Else and the Summer EP followed during 2020. "I guess quarantine forced me into doing what I want," says Athan, "because tomorrow isn't promised now, and you've no idea what's going to happen."
A message from the Editor
Thank you for reading this article. We're more reliant on your support than ever as the shift in consumer habits brought about by coronavirus impacts our advertisers.
Joy Yates, Editorial Director