A weird kind of synchronicity fell into place for Kirkcaldy-based singer-songwriter Mike Clerk just before Christmas, when one of the inspirations for his forthcoming debut solo album, The Space Between My Ears, accidentally sought him out on the internet. While writing the album, Clerk had immersed himself in TV dramas and books, and one of these was Irvine Welsh's Trainspotting follow-up The Blade Artist; then, one Saturday morning in December, Clerk woke to find that Trainspotting star Robert Carlyle had tweeted a recommendation for his song Keep Movin'.
Does he know Carlyle? "Like how Americans think every Scottish person knows every other Scottish person?" laughs the easy-going but enthusiastic Fifer, originally from Methilhill. "No, I've no links to Bobby, I've never met him – it was just a really weird surprise. It's nice to get a recommendation from somebody you respect, though."
This wasn't Clerk's first encounter with the firmament of Scottish culture, however. Back in the 2000s, his band The Lost Generation played former Creation boss Alan McGee's Death Disco club in London, as well as Club NME in New York, while Primal Scream's tour manager suggested he audition as the group's guitarist.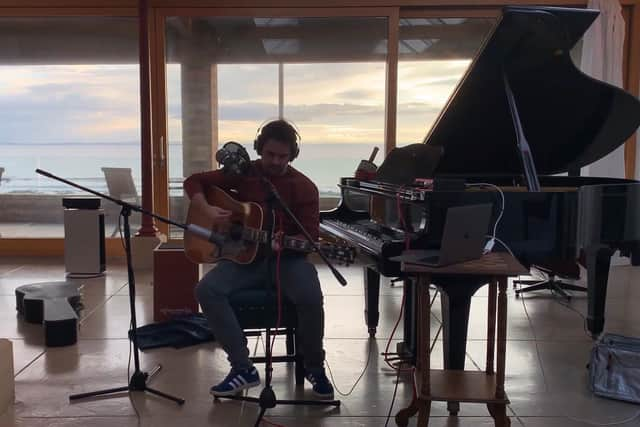 "I got really excited about it," recalls Clerk. "They were in Oslo or Sweden, so I spent my whole giro on a passport, missed my sign-in day, and when I told the dole why I was doing it, they just laughed at me and kicked me off. I was the guy in Leven Job centre with the best excuse for missing my sign-in appointment!"
Clerk stepped away from music and worked as a private music tutor, but recently decided to test himself by writing while learning piano. Applying for a grant during last year's lockdown to help release the album, he set up a GoFundMe as another income stream; within a week he'd smashed his target, and not long after he had a publishing deal.
Keep Movin' is his Scotsman Session, recorded at the historic Cardy Net House in Lower Largo, which is owned by one of his guitar students. "The album is about psychological states of mind," says Clerk. "Empathy, struggle, failure, defiance – all written in three acts like a film, picking you up at the beginning, dropping you in the middle and bringing you up at the end. This song's about redemption and determination; about pushing through the odds just to see if you make it out the other side."
A message from the Editor
Thank you for reading this article. We're more reliant on your support than ever as the shift in consumer habits brought about by coronavirus impacts our advertisers.
Joy Yates, Editorial Director