The neo-folk music of Stephen McAll and his band, Constant Follower, is intimate, unvarnished. Its raw inner beauty casts a deeply affecting spell. McAll's husky murmur and the sensitive accompaniment of bandmates Amy Campbell (synth/vocals), Andrew Pankhurst (guitar) and Kessi Stosch (bass/vocals) is a rare source of comfort, like gently flickering log fire embers on the darkest night of the year.
"The process of making music is difficult for me," says McAll. "I'm constantly fighting against my weaknesses. At the time of writing, the words are coming without any real intention, I don't sit down to write about a particular thing, I just sing along as I play guitar and words start to form. Maybe that's part of why people seem to like them, because they're simple and honest."
The song he's chosen to perform is Weave of the World, featuring his daughter, Islay, on glockenspiel.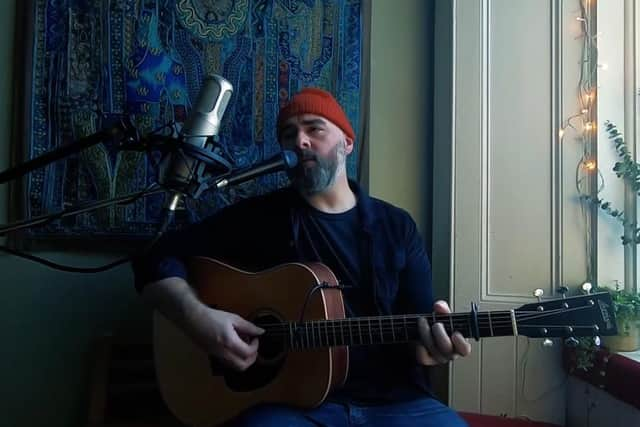 "I wrote it during a period of anxiety or maybe mild paranoia," he says. "You can hear that in the words. But it's taken on a new meaning for me, since what I must have thought might happen, didn't. There's still a lot of darkness in there, but the song reminds me that feelings are real but they aren't facts. Even when you think things are going very wrong, there's always a way to turn it around."
Constant Follower release their debut album in April, when some form of normality may have returned to our lives. "Until then", says McAll, "I'll be using this strange time to write some new songs, get outside when I can and huddle at home with my family when I can't."
McAll and co have composed the perfect huddling soundtrack. It's swaddled in sadness, but always offers hope.
A message from the Editor:
Thank you for reading this article. We're more reliant on your support than ever as the shift in consumer habits brought about by coronavirus impacts our advertisers.
Joy Yates, Editorial Director